By Jennifer Smith, News Editor
August 10, 2017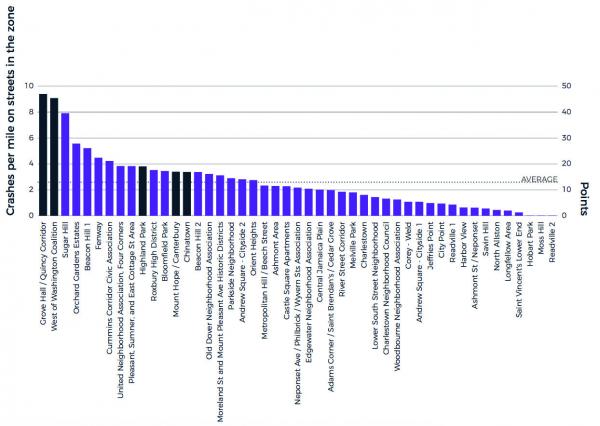 Five new zones, two in Dorchester, have been selected to take part in the city's Neighborhood Slow Streets program, an initiative that homes in on multi-block sections of the city and proposes traffic calming and mitigation efforts customized to the areas' specific needs.
Parts of Chinatown, the Grove Hall/Quincy Corridor, Highland Park, Mount Hope/Canterbury, and the area covered by the West of Washington Coalition will join two existing pilot neighborhoods at the Talbot-Norfolk Triangle in Dorchester and the Stony Brook neighborhood of Jamaica Plain.
"This initiative is a great collaboration between city agencies and communities that delivers traffic-calming results that will make our neighborhoods safer," said Mayor Martin Walsh in a statement announcing the additional zones.
The city chose the five zones from 47 applicants representing 44 communities across 16 neighborhoods. West of Washington's zone abuts the Talbot-Norfolk Triangle (TNT) zone, and this latest move effectively will create a larger connected Slow Streets area once both have completed the process.
"This will help us to decipher where some of this traffic can go," said Laquisa Burke, president of the West of Washington Coalition. Their zone is a rectangular 12 blocks, including four one-way streets, and hemmed in by Norwell, Harvard, and Whitfield streets, touching the TNT area along Talbot Avenue.
West of Washington was formed last August, mostly in response to traffic and crime, Burke said. She has lived in the area since she was about eight years old and cars racing down two-way Norwell Street nipping vehicles parked on the shoulders have been an issue as long as she can recall. "I can't even remember how many mirrors I've lost," she said.
So when her group heard about the Slow Streets initiative last year, they were generally aware that the neighboring TNT zone was going through the process. "They had already had it piloted," Burke said. "Awesome. It's adjacent to our area, but then it filtered traffic into our area."
She sat down with her members and they hashed out an application and wrote letters asking for consideration. Traffic-calming solutions can include options like better signage, speed bumps or humps, raised sidewalks, roadway direction changes, and curb alterations.
Selection criteria for the new zones included the number of households with youths under 18, the percentage of the population aged 65 or older, the number of crashes per mile within the area, and the presence of parks, libraries, and transit.
The Grove Hall zone encompasses 5.2 miles of streets around two parks, two schools, and several markets and places of worship.
As part of the Vision Zero goal to eliminate fatal and serious traffic crashes, between June 1, 2014, and Dec. 31, 2016, Neighborhood Slow Streets prioritized areas with more fatal or injury crashes on streets within the zone and within 25 feet of a boundary street. The Grove Hall/Quincy Corridor zone had the highest number of both – 9.4 per mile in the zone and 112.76 per mile in boundary areas – and West of Washington ranked second in both – 9.08 and 98.78 per mile, respectively.
Riding the line between Districts 4 and 7, the Grove Hall zone included letters of support from district City Councillors Andrea Campbell and Tito Jackson and at-large Councillors Michael Flaherty and Annissa Essaibi George.
"Residents in this area of Grove Hall have consistently voiced concerns about heavy traffic and high speed in their neighborhood," Campbell wrote in a letter of support for the application. "These concerns include cut-through traffic, double-parked cars, difficulty crossing the street, and speeding on streets with significant populations of kids and elder residents."
A weighted point system ranked all 47 applicants according to need, including crash and population metrics and support from the community. For the final scoring determination, the top four zones (Grove Hall / Quincy Corridor - 206.89; Chinatown - 202.65; West of Washington Coalition - 199.62; and Highland Park - 190.79) were shoo-ins for the 2017 round.
"Once we determined that size played a significant role in our selection," the final report read, " With the available resources, our fifth zone needed to be more similar in scale to that of the pilot communities."
Roxbury's Sugar Hill and the United Neighborhood Association, Four Corners area of Dorchester were the fifth and sixth ranked areas, but were too large for inclusion. The Mount Hope/Canterbury zone in Roslindale was the seventh-highest scoring area and had fewer than 3 miles of streets. It includes moderate crash numbers, high ratios of elderly and young residents, high levels of support, "and, though less important, this zone helps us achieve additional geographic diversity," the report read.
The transportation department expects to begin work by early fall, starting with community walks through the chosen 2017 areas. Another batch of neighborhood zones will be selected next year.
For Laquisa Burke, it's a matter of hurry up and wait until the city loops back with next steps. She does not expect all of the 7,400 daily drivers passing through their zone to just learn to slow down without putting a bump in their path – the percentage of those cars speeding jumped from 20-30 percent to around 51 percent after the citywide speed limit was lowered to 25 miles per hour – and the intersection at Norwell and Park streets remains a hazard.
Laughing incredulously, Burke recounted a crash on a warm afternoon in July when Norwell Street was closed off, the West of Washington Coalition's community barbecue was rolling along, and police were peppering the blocks. A driver making a left off Park Street onto Norwell slammed into a man at the crossing. "There was no traffic," she said. "It was so crazy, like, you people need to get it together."