By Bill Forry, Editor
February 23, 2017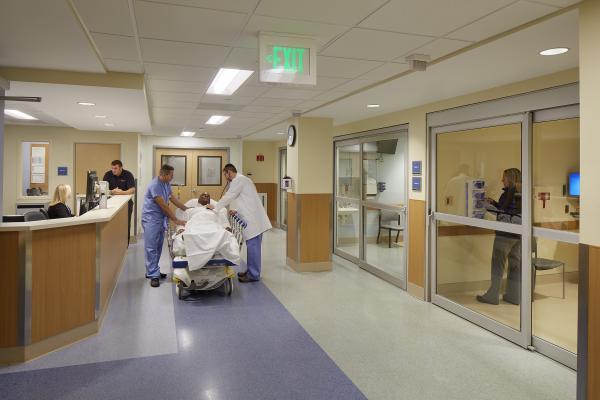 Carney Hospital last Thursday celebrated the completion of a newly renovated and expanded Emergency Department (ED) with local community leaders. The $2 million modernization project includes 11 private exam rooms and 6,000 square feet of new space.
"The renovation and expansion of our ED will offer our patients more space and comfort, while improving the department's workflow and efficiency," said Carney Hospital President Walter J. Ramos.
Hospital administration and elected officials touted the expansion as the latest evidence of Carney's commitment to asserting itself as a leading community hospital.
"Congratulations to Steward Health Care and the Carney Hospital on the expansion of their Emergency Department" said Boston City Councillor Frank Baker. "This will continue to be a great asset to Dorchester and the surrounding communities and we look forward to their continued success."
Added state Rep. Dan Cullinane: "Carney has always played a critical role in our community and this new emergency department will only expand the tremendous benefit that Carney provides to the people of Boston, particularly here in Dorchester and Mattapan."
Carney officials say that the enhanced ED has already resulted in "some of the shortest wait times in the Greater Boston area." The average patient wait time to be seen is 12-13 minutes, outpacing most high volume EDs throughout the nation.
Carney Hospital is part of the Steward Health Care Network, which purchased the hospital— along with other facilites formerly operated by the Archdiocese of Boston— in 2010. The 159-bed hospital serves approximately 37,000 patients annually, according to Steward.
Other hospitals currently in the Steward system include Norwood Hospital, Saint Anne's Hospital in Fall River, St. Elizabeth's Medical Center in Brighton, Good Samaritan Medical Center in Brockton, Nashoba Valley Medical Center in Ayer, Holy Family Hospital in Haverhill and Methuen, Morton Hospital in Taunton, and New England Sinai Hospital in Stoughton.