By Bernadette Darcy, Reporter Correspondent
November 30, 2017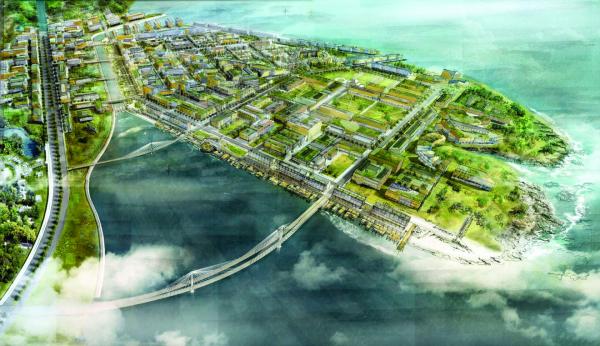 Could a canal running along Morrissey Boulevard help relieve the impacts of climate change, generate clean energy and ease congestion on Columbia Point? Paul Lukez Architecture, a firm headquartered in Somerville, has devised a plan that would do all of that and more— and it's earning rave reviews from peers in the architectural world.
The firm's design for a Hydroelectric Canal that would run from Carson Beach to Savin Hill Cove along Morrissey Boulevard, creating an ecologically sustainable urban model powered by clean energy— won the inaugural WAFX prize for innovation in Climate, Energy & Carbon at the World Architecture Festival in Berlin this month.
Under the concept devised by the firm's principal Paul Lukez, the canal would capture rising sea levels and tidal changes to generate hydroelectric energy through innovative turbine technologies. It's inspired by a hydropower generation method utilized in Boston's Mill Creek area during the 1640s.
"Our goal in developing this project is to harness hydropower in low-lying urban areas while shaping resilient, self-sustaining communities," Lukez said in a statement upon receiving the award. "The damage sustained by coastal communities during the recent hurricane season brings home the need to develop urban centers that can withstand the effects of climate change. The Hydroelectric Canal would not only benefit Boston, but could be duplicated in other low-lying communities around the country and the world."
Paul Lukez Architecture focuses on creating sustainable designs that improve living conditions and support the environment. The firm has worked on architectural and urban design projects in Asia, Central America, and the U.S. and is especially interested in integrating sustainable concepts and technologies into its projects.
"The [Columbia Point] development would use tides and new infrastructure as a way of capturing renewable energy—using that as the basis for a new kind of urban design," Lukez said.
While there are no immediate plans to make the proposal a reality, Lukez hopes that it can generate discussion in the architectural, environmental, and political spheres. He believes that the design concepts can be applied to other cities threatened by rising sea levels.
"The idea is to make this area of Boston more resilient to climate change," he said.