By Jennifer Smith, Reporter Staff
June 22, 2017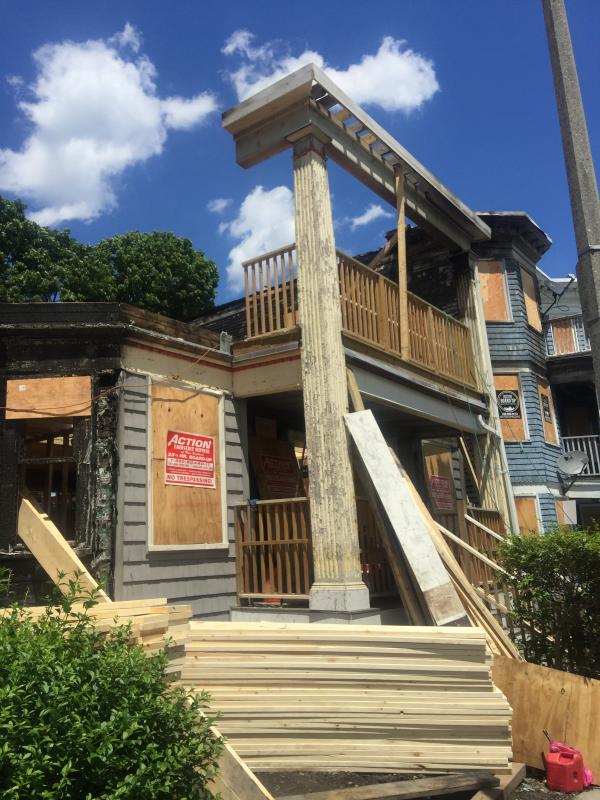 Almost every neighborhood in Boston has that nightmare property – the house that sags under the weight of burned-out beams, seems ready to blow over in a stiff breeze, or is used more by squatters than residents. Sometimes they haunt the street for years, even decades.  
Nearby residents who pass by the same dilapidated structure every day come to feel that theirs in the only area in the city being allowed to fall into disrepair. Of course, such properties can be found anywhere in Boston, but there are patterns in certain neighborhoods.
Those in the Ronan Park neighborhood of Dorchester have been frustrated with numerous longstanding eyesores. "In my family's 13-plus years in the same residence, there have been 6 devastating fires – two to the same residence at 8 Marie – only half of which have been rebuilt," Mt. Ida Rd. resident Jennifer Coyne wrote in an email to the city after a six-alarm fire tore through the house on Marie Street.  
In her letter, Coyne questioned whether such properties would be allowed to stand in newly developed or more affluent neighborhoods, particularly those with market-rate housing. "Those folks certainly wouldn't put up with the squalor that is becoming the Ronan Park neighborhood, thanks to outdated laws and tired administrators who have their hands tied," she wrote.  
Safety officials say that Coyne's contention does not quite ring true.
"We've got them everywhere," Inspectional Services Department (ISD) Commissioner William Christopher told the Reporter. "Where you have higher concentrations of buildings, like in Dorchester or Mattapan or Roxbury, you'll have higher concentrations of abandoned buildings. That's purely a math situation… it's not based on an economic strata that goes through the city."
Practically speaking, there are differences between abandoned buildings and simply vacant ones. If a building is vacant and boarded up, then it poses no threat to the area. Provided its taxes are paid, the city can't do much about it.
The Department of Neighborhood Development maintains a list of distressed properties, in 2015 noting 123 distressed residential buildings in Boston. Those numbers have declined by 16 percent since 2013, according to the 2015 report. Roxbury and Dorchester counted the highest number of distressed residential buildings, 35 and 30 respectively.
At a town hall forum in Codman Square last Thursday, Attorney General Maura Healey said her office is working with cities "to go through and identify those abandoned properties, get them cleaned up, so they won't become havens for bad activity and lower property values. Get them cleaned up, get them back on the market and allow families to move into these properties. It makes a lot of sense. It also gets them back on the tax rolls, which is good for the city."
One way to find the total number of dangerous structures is to look at the internal Boston Fire Department list. The generally stable listing serves mostly as a safety guide for firefighters, who would be flagged if called to one of the buildings cited.
 In early June, the list contained 264 properties scattered throughout the city that needed notation. They include damaged structures as well as buildings that may be under construction and therefore missing some crucial element, like a staircase.   
Plenty of buildings are cited simply for lacking windows. Sixteen on the list specifically note prior fire damage. Twenty-eight were "gutted." 
There were 50 properties assigned the "dangerous" label, which fire department spokesman Steve MacDonald says is more of a "heads up," signaling areas like roofs or sites of low visibility where firefighters would need to tread with caution.
Serious care needs to be taken for buildings "posted with a /" or "posted with an X," racking up 44 and 153 instances, respectively. "Posted with an X means on arrival, you're not supposed to go into the building at all," MacDonald said. The backslash is almost as dire, and only if there an immediate risk of life should the building be entered.
East Boston has the highest proportion of very unsafe properties, with 39 of its 59 total houses "posted with an X." Across Roxbury and Dorchester, the total number is over 80, though the houses are distributed more evenly across all safety levels. West Roxbury, often the go-to comparison point for housing activists, has two dangerous properties.  
Some of this can be attributed to population and housing density. West Roxbury's population is less than 20 percent of Dorchester's.
But longtime Dorchester neighborhood advocate Davida Andelman thinks there's an attentiveness gap as well. "I firmly believe that that's not tolerated, leaving a property that is uninhabitable, that's been deemed a hazard," she said. "I think the property owner would suffer a lot of harassment by neighbors and by the city in West Roxbury." 
The fire list is also a good way to get a sense of ISD priorities. "The interrelation between the Fire Department and ISD is pretty thorough," Christopher said. "In a lot of cases we will be there simultaneously, and in a lot of cases we'll be there independently and we exchange resource information." 
They two agencies work together to determine the best course of action for a dangerous building. Christopher cited 8 Marie St. as an example.
"It was clear that we were going to make the primary fire site uninhabitable," he said. The two buildings on either side had their windows taken out and were boarded up. After the fire, owner Bonnie Glenn sold the property for $250,000. It was largely torn down and is in the process of being re-built and intended to be used as rental housing.
The city also keeps a "problem properties" list, which is monitored by a task force across its fire, police, inspectional services, neighborhood services, public health, treasury, air pollution control, and legal departments.
For a building to make the list, it needs four strikes across departments within a year. A problem property could be the site of at least four criminal complaints in a 12-month period. A property with at least four noise complaints, or four-plus inspection or public health violations, also may be cited.
Nine properties are designated as such across the city. A downtown apartment building and a mixed-use apartment in Jamaica Plain are the outliers, as the other seven were from Roxbury and Dorchester, five of those in police area B. 
"To me it sounds low, absolutely," Andelman said. "Oh my god, that can't be. I'm pretty incredulous." 
She suspects there is a gap between properties that most everyone in a neighborhood would deem problematic and those that actually rack up specific calls.  "A lot of people are still reluctant, because of not being familiar with calling the city departments," she said.
Buildings like 97 Mt. Ida Rd. are a sore spot for neighbors and inspectors alike. It has stood in disrepair for more than a decade as it owner refuses to do necessary repair work, dragging down property values and distressing nearby residents.
The city's ongoing case against owner James Dickey is tied up again, as a petition he files with the state building code needs to be sorted out before he can return to the open suit in housing court.