By Jennifer Smith, News Editor
August 18, 2017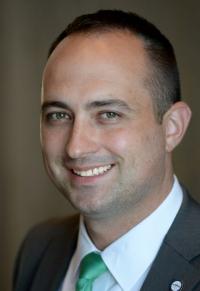 The city of Boston's chief financial officer, David Sweeney, a man with deep roots in Dorchester, will take over as chief of staff for Mayor Martin Walsh on Sept. 1, the mayor's office announced last Friday. As the mayor's top aide, his responsibilities will include advancing the administration's priorities, monitoring city services, and supporting city employees.
"I'm very, very excited. I think I'm very well positioned to do this job," he told the Reporter in a phone interview on Tuesday.
"David Sweeney has served as an integral part of my administration from day one," Walsh said in a statement. "He is a thoughtful, no-nonsense manager who is focused on implementing initiatives that will move Boston and its neighborhoods forward."
He will succeed Daniel Koh, who is said to be leaving City Hall to look at a run for the congressional seat now held by US Rep. Niki Tsongas of Lowell. She announced recently that she will not run for re-election next year.
Sweeney has served as the city's chief financial officer (CFO) and collector-treasurer since April 2014. The Walsh administration has highlighted Boston's four straight years of AAA bond ratings as validation of its "sound fiscal management" under his tenure.
His dual responsibilities gave him "a broad view of how the city operates," Sweeney said. With more than 45 city departments funnelling requests through his office for budget approvals, and with his involvement with crafting the administration's capital plan each year, Sweeney feels he has "a leg up on other people who might have come in from the outside and had to learn the city."
Sweeney, 34, lives in Neponset with his wife, Kaitlyn, and their two children, Jack and Ellie.
The neighborhood has been the hub for the Sweeneys for generations; his father's family settled there in 1890. For a time, all 18 of his father's siblings called Dorchester home. David's house today is just blocks away from the house his grandfather owned, and he grew up in the same Train Street home as his mother.
After Sweeney checked off the local early education credentials – the Murphy school for kindergarten, then St. Ann's through fifth grade – the family moved to Hanover for his junior high years. They came back to Dorchester for him to attend Boston College High School. Then he went off to Providence College, after which he returned to Boston, and Dorchester, again.
Sweeney is bullish about the future of the city. "By and large, it's changed much for the better over the last 25 years, and I think that's accelerated over the last four years." Especially around the Greenway and the South Boston waterfront, he said.
"It looks in certain pockets a lot different from when I was growing up," he said. Taking Adams Village, which he used to wander through with his hockey gear and grab two slices of pizza at Sonny's, as an example, he said, "Now there's gastro pubs and 50-dollar steaks on the menu," referencing The Industry restaurant, which replaced Sonny's this year.
Many of the Dorchester institutions remain, Sweeney notes. He played basketball with St. Ann's CYO team, baseball at Cedar Grove, and soccer with the All Dorchester Sports League.
"A lot of those organizations, the kids – I was much like them 25 years ago – a lot of those things remain in place," he said, "and now it's people my age who are running those organizations."
The updates from his younger days are all around him, or in the works. Garvey Park in Neponset is under renovation. There will be a new library at the Adams Street branch. He still stops by Greenhills Bakery with his almost-two-year-old for a muffin and coffee, then heads up to Hemenway Park, or heads over for a walk along the new greenway bike path through Milton and Mattapan. When it comes to the new restaurants, bars, and gyms, he says, "Those have long been needed in those areas and I think long term residents think that, too."  
Sweeney, following the mayor's lead, said he wants to "ensure that that progress is experienced by everyone," and make sure that neighborhoods "maintain their character" during this economic boom. "People in Boston take a lot of pride in the neighborhoods they come from," he said. They readily identify themselves by their street, village, or parish, he noted.
While new Bostonians stream in, he said he hopes the city will continue to focus on "ensuring that that still means something, that people still take pride in their neighborhood. We need to listen to residents to ensure the neighborhood is viewed positively by long term residents and not just the people who are moving into the city."
Before taking the city's top financial postings, Sweeney was budget director for the House Ways and Means Committee at the State House and CFO and assistant executive director of the Lottery Commission.
Sweeney comes from a politically engaged family – "always politics talk around the table" – so public service had seemed like a likely path for him.
"It's kind of a dream come true to be chief of staff to the mayor of Boston," he said. "It's not something I thought was possible growing up."
And not just any mayor. The Sweeneys have a long history with Walsh. David's father has supported Walsh since his first run for state representative, and both families count members involved in the Laborers Local 223 union.
Sweeney's first job after graduating from college in 2005 was as a budget analyst for the House Ways and Means Committee. "The first place I brought my resume was to Martin Walsh," he said. The then-Rep. Walsh connected Sweeney to Robert DeLeo, newly made chairman of the Ways and Means panel.
Walsh helped him get his start in politics, Sweeney said, "and now it's coming back full circle" as he takes on his new role in the middle of the mayor's reelection campaign.
Sweeney has overseen the city's $3 billion budget for over three years, helped shape Imagine Boston 2030 priorities for the city's first planning study in 50 years, and led negotiations with city unions. The streamlining of the city budget has freed up money for investments in early education, more public parks, and other amenities for the city. Sweeney also noted the passage of the Community Preservation Act, which offers a new source of funds toward affordable housing, historic preservation, and open space. "I think those are the issues the mayor cares about, and by virtue of sitting in the CFO seat, I've been involved in pretty much all of them," he said.
Sweeney acknowledges that he will be "looking at things from a slightly different angle" in his new position, but he is building on a familiarity that should make for a smooth transition.
The mayor saluted his outgoing staff chief on Friday without mentioning his possible next steps. "Dan Koh has provided unwavering service to the city of Boston for almost four years," Walsh said in a statement. "From his dedication to improving education, housing and job opportunities for the residents of Boston to making government more innovative and efficient through data-driven practices such as CityScore, Dan is a proven leader with a big vision and a passion for making people's lives better. The city of Boston has benefitted greatly from his work and I thank him for his dedication and support."
For his part, Koh offered a note of thanks in the announcement, and applauded Sweeney's work as Boston's CFO. "Serving as chief of staff has been an incredible honor and I am grateful to the people of Boston and Mayor Walsh for the opportunity," he said. "David Sweeney is a model public servant who has impeccably managed the city's financial health over the past term. He is a fantastic choice for chief of staff and Boston is incredibly lucky to have him."