By Elana Aurise, Reporter Staff
September 7, 2017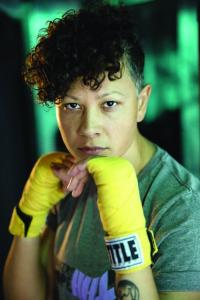 Dorchester native Natasha Moustache will step into the boxing ring to knock out cancer on Thursday, October 5 at 6:30 p.m. at House of Blues.
She will be one of 32 novice boxers competing in Boston for Belles of the Brawl V, an all-female charity boxing event presented by Haymakers for Hope.
Moustache, a 35-year-old freelance event photographer, will go head-to-head with 32-year-old Marine Scientist Emily Jones. She has been training at Dorchester's Grealish Boxing Club and has raised over $3,000 for the charity boxing event.
"Grealish Boxing Club is a small gym but a big community and I see the same faces every day," said Moustache. "People bring their kids and it feels like a family. Everybody there from the kids and teens to the older guys, they've been really welcoming. People might think training at a gym in Dorchester would be intimidating, but once you start doing what you're doing, everyone is there to help."
The funds raised by Moustache will benefit The Cancer Research Institute, an organization where 87 percent of every dollar spent goes to research programs.
Moustache says the cause is personal.
"My mother, two uncles, an aunt, two ex's fathers, a teacher, a former employer's wife just to name a few," she writes of people she knows who are impacted with cancer. "The list goes on and on and on because cancer affects everyone. And it will continue to affect us all until we find a cure through research and the funding of that research."
Haymakers for Hope is a non-profit organization that literally fights for a cure to cancer. They take novice boxers and arrange four months of professional boxing from a gym in the participant's neighborhood. The boxers then compete on fight night against an opponent of equal skill. The organization has raised close to $7 million for Dana-Farber Cancer Institute and other cancer focused research and care facilities.
General admission tickets to Belles of the Brawl V are $85 for standing room. VIP packages are available for $150 and box seating and sponsorship packages begin at $2,500. For sponsorship packages, please reach out to Mark Avery at mark@haymakersforhope.org.
To learn more about Haymakers for Hope, buy tickets to the event, and donate to Moustache and the other participants, please visit haymakersforhope.org.