By Elana Aurise, Reporter Staff
November 30, 2017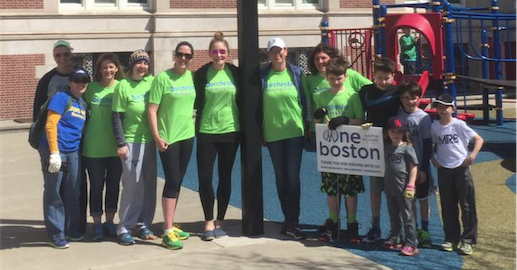 The Dorchester Running Club will host their third annual "Halfway to Dot Day 5K" road race on Sat., Dec. 9. Proudly partnered with the Boston Police Athletic League and the Mayor's Toy Drive, the funds that will be raised for the Dot Day 5k will be used for individuals and families who are experiencing homelessness in the community.
Many members of the club are teachers for Boston Public Schools and often hear of families who are in need of some extra help during the holiday season. The Dorchester Running Club will also use funds raised for those families in need.
With about 100 members total, this is their best year yet with just over $14,000 raised from their generous sponsors.
"This isn't just an ordinary road race," said Stefanie O'Shea, president of Dorchester Running Club. "Participants bring their heart too and generously donate hundreds and hundreds of toys that are distributed throughout our neighborhoods. We strive to be community minded and support our neighbors."
Participation in the 5K is open to all abilities, walkers included. Registration is $20. Any child under 12 who donates an unwrapped toy for the Mayor's Toy Drive will run for free.
Registration through Racewire can be done online at racewire.com/register.php?id=8516. You can also sign up on the day of the race inside Florian Hall starting at 7:30 a.m. The race will start at 9 a.m. at the Hallet Street entrance of DCR's Pope John Paul Park.
Email Jenn McQuaid at DorchesterRunningClub@gmail.com to learn more about the various sponsorship opportunities the team has to offer and visit dotrunners.org to view the running club's yearly membership opportunities.
The running club is passionate towards running to help, not just running to run. To be a part of this organization, join them for a run every Thursday night at the Adams Village clock, 7 p.m. or on Saturday morning at Garvey Park, 7 a.m.