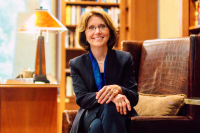 A woman with roots in Dorchester who currently serves as chancellor of the University of North Carolina at Asheville will be the new president of the Edward M. Kennedy Institute for the United States Senate. Dr. Mary K. Grant will begin her role at the Dorchester-based nonprofit in January 2018.
Dr. Grant earned her master's in public affairs from the McCormack Graduate School of Policy and Global Studies at UMass Boston— right next door to the EMK Institute, which opened in 2015. She has served as chancellor of the University of North Carolina at Asheville since January 2015. She previously led the Massachusetts College of Liberal Arts— her alma mater— for 12 years.
She was born in Dorchester and raised in Weymouth, according to the Boston Globe.
Victoria Reggie Kennedy, co-founder and president of the EMK Institute Board, said Dr. Grant was "passionate" about the mission of the Institute.
"She has the experience and vision to inspire the next generation of our nation's leaders and to lead the Institute into its next phase of growth and development. Now, more than ever, we believe it important to fulfill my husband's vision of engaging Americans, young and old, in active citizenship," said Kennedy.
Dr. Jean F. MacCormack, a Dorchester native who has led the Institute since 2014, will "actively assist in the transition before stepping down in January 2018."
"Having the opportunity to work with the talented board, staff, volunteers, and interns at the Institute has been a career highlight," said Jean MacCormack. "I am proud of what we have accomplished since opening our doors, and am inspired by the engaged students and enthusiastic visitors who fill our Senate Chamber. I am confident that Dr. Grant will continue the Institute's leadership as an innovative, high-tech center of civic engagement and learning."
"I am honored to join the team at the Institute," said Dr. Grant. "I am impressed by what is taking place there – the vibrant conversations, the civic learning, the exchange of ideas, and the active demonstration of democracy. The Institute is a place where people from all walks of life can experience the power of finding common ground and shifting political dialogue away from polarization and towards bipartisanship. This work is greatly important and I look forward to the opportunity to continue expanding the Institute's reach."