By Reporter Staff
November 30, 2017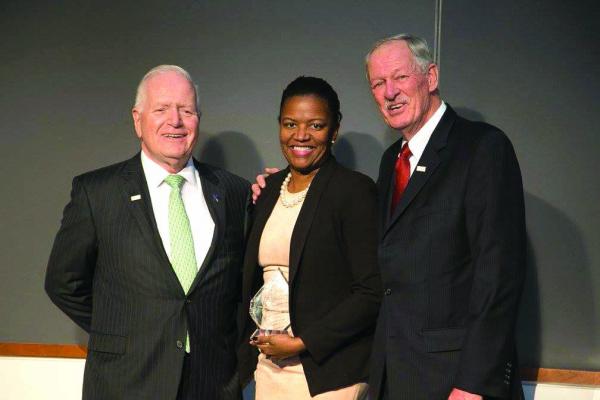 FamilyAid Boston honored State Senator Linda Dorcena Forry, vice chair of the Joint Committee on Housing, for her advocacy for affordable housing for families at its 15th annual Home for the Holidays celebration on Nov. 16.
More than 180 guests gathered at the Exchange Conference Center in Boston to honor Forry, a Dorchester resident, and the law firm WilmerHale, which received the Community Impact Award for its generous pro-bono work on behalf of FamilyAid Boston and the parents and children in their programs.
Sen. Forry received the Thomas M. Menino Award for Outstanding Community Service for her powerful advocacy on behalf of low-income and homeless families.
Alison King, NBC Boston political reporter, emceed the speaking program, which included remarks from a former client of FamilyAid Boston, a single mother who recently bought her first home just a few years after being homeless.
FamilyAid Boston is a local leader in shelter, housing, and services for homeless parents and children, working to end family homelessness one family at a time
The program serves nearly 800 families each year, including more than 1,500 children. The agency works with families at every stage of the journey from homelessness to housing by providing homelessness prevention, emergency shelter, and permanent affordable housing, along with support services to help families regain housing stability and build a foundation for the future.
Editor's note: Sen. Forry is married to Reporter publisher/editor Bill Forry.