By Bernadette Darcy, Reporter Correspondent
October 5, 2017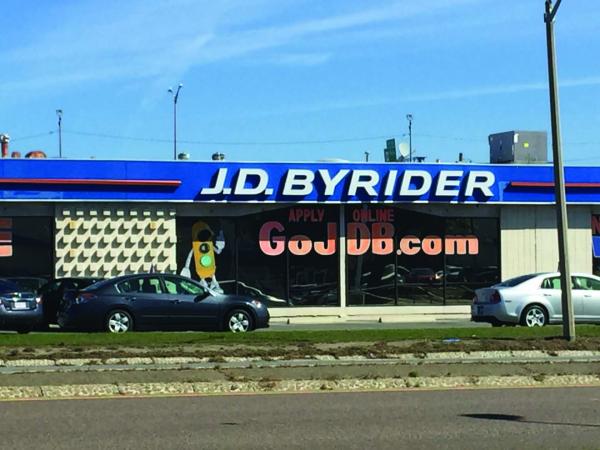 Used car dealers J.D. Byrider employed predatory practices to sell defective vehicles at high cost to consumers, according to the state's Attorney General Maura Healey, who filed a lawsuit against the company last week. The lawsuit alleges that J.D. Byrider, which operates a dealership in Dorchester on Morrissey Boulevard, targeted vulnerable consumers.
"Our goal in this lawsuit is to recover losses to Massachusetts consumers and make this company pay for the harm they caused to thousands of drivers across this state," Healey said in a statement.
J.D. Byride also operates dealerships in Brockton, Dartmouth and Springfield.
The Attorney General's lawsuit is grounded in the Massachusetts Consumer Protection law, a statute that enables consumers and the Attorney General to take legal action against deceptive or unfair conduct in the marketplace. The AG alleges that J.D. Byrider deliberately targeted low-income consumers with tarnished credit histories by promising quality cars, affordable loans, and an opportunity to improve their credit scores, packaged and marketed as the "J.D. Byrider Program."
Of the cars sold by J.D. Byrider, 42 percent required repairs within the first 3 months of purchase, according to Healey's suit. Repairs were most often related to the mechanical breakdown of a major car component such as the engine, electrical system, transmission, brakes, or drive train.
The AG's complaint further alleges that J.D. Byrider employs a faulty underwriting process that underestimates the consumer's expenses and costs in order to qualify them for loans they can't afford.
Over the last decade, subprime auto loans have become increasingly common in low income areas of the United States. Ten years after the housing bubble burst—a failure that thrust the U.S. economy into the Great Recession—a different kind of subprime debt quietly amasses in households across the country.
Consumers who purchased the J.D. Byrider Program typically paid more than double the fair market retail value for their used cars. Regardless of conditions, J.D. Byrider sold cars to consumers at a fixed price, typically around $12,000. A mandatory car loan compounds this expense; the loan comes from JD Byrider with a fixed interest rate of 19.95 percent.
J.D. Byrider buys cars for about $5,000 each. On average, the cars they purchase have been driven over 100,000 miles and are more than 7 years old. J.D. Byrider claims that its car service employees conduct an average of $1,500 worth of repair work on each car before vehicles are displayed in the lot for sale. Furthermore, the company's website claims that 92 points are inspected on each car and technicians conduct 20-minute minimum test drives on all vehicles.
However, the Attorney General's office contests that far less repair work is actually completed. According to the AG's complaint, J.D. Byrider incentivized car repair employees with financial bonuses to limit the amount of time and money spent reconditioning cars prior to sale.
J.D. Byrider issued the following statement last week: "We are aware of the lawsuit filed by the Massachusetts attorney general and will be looking into the facts of this matter carefully. J.D. Byrider's focus is to help people get on the road with a better car and the financing they need.  We are committed to working with regulators to solve concerns and improve our business.  As a company in business for more than 25 years, serving many customers across the nation, we work hard to set J.D. Byrider apart as an industry leader and will continue to do so."
As a result of the high-cost loans, low quality cars, and frequent need for repairs, the majority of consumers entered into the JD Byrider Program defaulted on their loans. Thus far, over 50 percent of the J.D. Byrider deals failed, and the cars were repossessed.
J.D. Byrider opened at 710 Morrissey Blvd. in Dec. 2012. The discount dealer replaced Westminster Dodge, which closed after losing its longtime affiliation with Chrysler in 2009.