By Sam Doran, State House News Service
November 9, 2017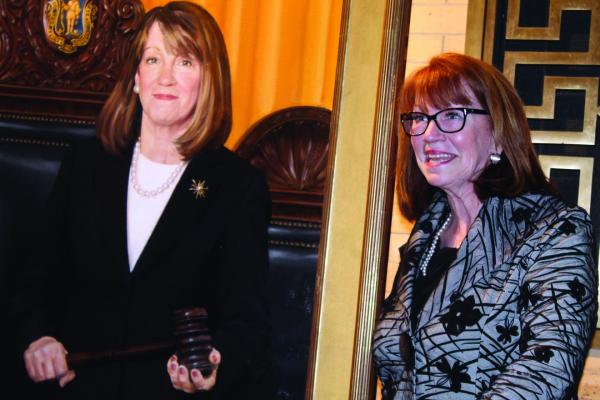 Therese Murray will forever wield the Senate president's gavel — on canvas, on the walls of the State House. A host of lawmakers past and present were on hand last Thursday evening to toast the former president, the first and only woman to lead either legislative branch, as she unveiled her official portrait. Senate President Stanley Rosenberg, who emceed the ceremony, described Murray, a Dorchester native, as initially reluctant to sit for the portrait.
"She hemmed and hawed, 'I don't really want to do this,' and blah blah blah, and then she left office and there still was no portrait," he said. "And her friends and long, longtime friends and supporters, finally convinced her to do the right thing."
Longtime Murray friend Cheryl Bartlett described how the portrait came to be -- from its inception in a series of meetings with the former president. "There was a fair amount of meeting around the hill, and some wine involved in that, which made the project that much more fun," she said. They followed a "list of guidelines and specifications," Bartlett said, requirements for a portrait to be accepted by the Massachusetts Art Commission which oversees the building's artworks.
Others spotted in the Great Hall included former Senate President Thomas Birmingham, former Minority Leaders Richard Tisei and Brian Lees, UMass President Marty Meehan, former Sens. Michael Knapik, John Brennan, Warren Tolman, Bob Creedon, and Dick Moore, Steven Tolman, Senate Clerk Bill Welch, event planner Dusty Rhodes, former Murray staffers Rick Musiol and Jerome Smith, former School Building Authority director Katherine Craven, Health and Human Services Secretary Marylou Sudders, Attorney General Maura Healey, Treasurer Deborah Goldberg, and Secretary of State William Galvin.
Murray's picture will join paintings of past presidents in a fourth-floor hallway. Senate president portraits had for years been displayed in the Senate Reading Room, but were temporarily relocated this year prior to renovations in the Senate Chamber and adjoining rooms. In the portrait, Murray stands in front of the president's chair on the rostrum, wielding the president's gavel.
Prosperi, half of the husband-and-wife team who painted the piece, explained the composition: "The reason for all of these symbols was that she wanted above anything else, that when a young woman looked at this portrait, that woman could see herself and see possibility that she, too, could accomplish what Terry has accomplished."
"When I first met Warren and went into the chamber to pose," Murray said, "he thought I should be sitting in a chair and facing a particular place, and I said no — I want the symbolism of the office to be there for the women who follow after me."