By Jennifer Smith, Reporter Staff
June 15, 2017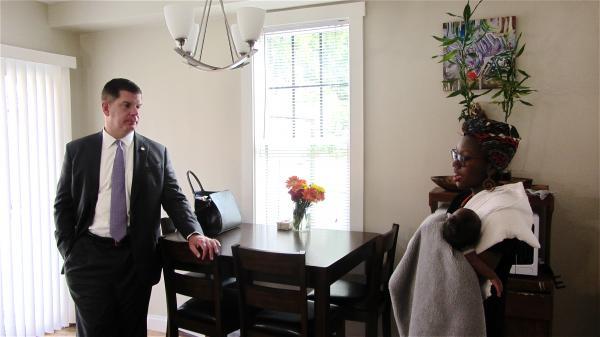 Moving into the grey and white house marked a new stage in the life of 24-year-old Renee Omolade. She had closed on the home on April 24, four days before her son was born, and a month later she stood on the porch in the bright sunshine holding him as city leaders and media milled around outside.
Omolade, a Boston native who went to Latin School and Emmanuel College, lives in one of the first houses to be available through the Neighborhood Homes Initiative (NHI), which kicked off in 2015 through the Department of Neighborhood Development.
"It's exciting because what we wanted to do when we talk about housing was to build more homes for people," Mayor Martin Walsh told Omolade as they sat in her living room. "Clearly, you're the perfect model of what we want to do – baby, family, home in the neighborhood."
The program aims to repurpose city-owned land by partnering with developers to construct neighborhood-cohesive housing, much of it designated as affordable for moderate- to middle-income residents.
More than 250 small city-owned parcels have been identified through the initiative, city officials say. There are 94 houses under construction or set to be completed in the next 30 days, another 42 parcels that have been formally conveyed to developers, and 62 parcels under agreement.
The two-bedroom, one-and-half bathroom house on Trull Street that Omolade now calls home is one of three in the "Trull and Ware" bundle. Another single-family house and one two-family house are posted on nearby Glen and Ware streets.
Both single-family homes were sold to residents making up to 80 percent Area Median Income.
"I've been in Boston my whole life," said Omolade, a program manager with The Lewis Family Foundation. "And this was a great opportunity for me to stay in the community and reinvest in the community... I'm 24 years old; I'm very young to be a homeowner, so it starts early, you prepare yourself early for that, to make sure that you can give your kids the things that I didn't have the opportunities to have."
Her house, built by Oxbow Urban, and other NHI properties like it, fit into the surrounding area. Before any developer is selected or the parcels are sold, residents get to weigh in and approve preliminary designs. Upon receiving Boston Planning and Development Agency approval, the city selects small developers to purchase the parcels and construct the housing. Interested buyers are first vetted through the Boston Home Center, which offers classes and financing assistance to prospective first-time homebuyers. Individuals like Omolade enter a lottery through the center as new NHI properties near completion.
Walsh said the city still needs to be creative with much smaller parcels, some of which are barely 500 square feet and insufficient for normal housing construction.
The mayor also toured a building under construction in the Garrison Trotter bundle of homes, which are being helmed by George Chin and Arnold Johnson of the Roxbury-based Crosswinds Enterprises, which they started together some 37 years ago. Chin and Johnson plan to bid on other NHI project bundles.
Near the playgrounds at the Trotter and Ellis school, the Garrison Trotter neighborhood of Roxbury will soon see a burst of new housing. With 18 units across 11 buildings, a mix of single- and two-family homes and side-by-side duplexes will be available through the lottery.
The Garrison Trotter Neighborhood Association has "been very involved, very helpful," Chin said. "Working in the community, you want their input," he said. "That money should grow the community and go back into the community."
Through the NHI process, and building on decades of local good will, Chin said, "We are doing these things that would [otherwise] be impossible for us to do. Some people can't do this affordable building… We manage to use community people to build it in the community, and let the community continue to have these homes."