By Elana Aurise, Reporter Staff
October 26, 2017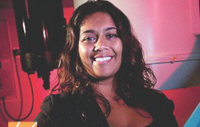 Christina Balkaran, a sixth grade math teacher at Henderson K-12 Inclusion School in Dorchester, has a new go-to player in her teaching playbook this school year. Balkaran is working with New England Patriots Wide Receiver Matthew Slater, a veteran who joined the Pats in 2008.
Balkaran was selected to be a fellow in a program launched last spring by Educators for High Standards, a project aimed at helping teachers better serve their students with challenging classroom expectations. It redefines professional learning by a motivational "game plan for success."
The program team up teachers with professional athletes to help motivate students.
"Football taught me the important of consistency and hard work," said Slater. "Ms. Balkaran is the type of teacher that has a deep understanding of what it takes to push students toward success and works hard every day to ensure they don't give up."
Slater had a video call with Balkaran and her students in late September and will be checking in again next month to see the progress made in their game plan.
Balkaran has been teaching at the Dorchester school for four years. She serves as the math department facilitator where she coordinates professional development and partners with the secondary math team designing and implementing accessible curriculum for students of all abilities.
"I have the opportunity to amplify my voice in partnership with other leaders within the community to develop a "game plan for success" that will address the many challenges facing students of color," wrote Balkaran in an article for the fellowship program. "[I will be] focusing on high leverage instructional routines that are uniquely designed to meet their needs and implementing cognitively demanding math tasks that will expand their reasoning capacity can ultimately close the achievement gap."
The aim of the game plan is to address a classroom-based challenge presently facing the students in Balkaran's classroom — and with the implementation of educational strategies — is meant to help her students overcome the challenge and reach success while simultaneously acting as an exemplar for other educators and their students.