By Tyler McManus, Special to the Reporter
November 16, 2017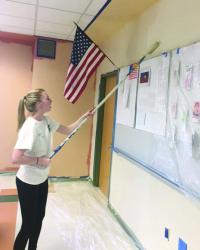 Empowering People for Inclusive Communities (EPIC), a community service and leadership development group for youth with disabilities, held its fifth annual Boston Serve event on Saturday, Nov. 4 at the Mildred Ave. K-8 School in Mattapan.
EPIC's group of young leaders, known as Service Warriors, was in control of the day as over 150 volunteers were divided into teams, each tasked with repainting walls inside certain classrooms.
At the end of the day, 16 classrooms were repainted. Also, 50 school supply kits were assembled for teachers by a designated group.
An opening ceremony preceded the service work. Speakers included State Sen. Linda Dorcena Forry, Mildred Ave. K-8 principal Andrew Rollins, Jeff Gentry, Director of Youth Services and Community Relations at Triangle, Inc. and current Service Warrior Jonah LeDuc.
"Your service makes a world of difference to our students, our school, and our community," said Principal Rollins. "[Our students] will be parading in here at 7 a.m. Monday morning with smiles on their faces, and probably even brighter smiles when they get to their classrooms and see that they look much, much better than they did a day or two ago."
Jeff Gentry touched on Triangle's commitment to people with disabilities.
"This year, Triangle will help people with disabilities secure over 320 jobs in the community, and will provide comprehensive abuse prevention training through IMPACT:Ability for over 400 Boston Public School students," Gentry said. "And one of the things we're proudest of is we will graduate this class of Service Warriors in May and we will welcome another class of young leaders to lead the disability rights movement forward."
Sen. Forry underlined the significance of the crowd's choice to help others.
"You could be anywhere," Forry said. "But you chose to be here, and to spend your time and energy helping others. And that's what it's about, isn't it? It's about helping others and seeing ourselves in other people…EPIC, you chose to use your ability to do this important work, and it will have a lasting effect on the people and the children in this community."
Service Warrior Jonah LeDuc, student at Perkins School for the Blind in Watertown, impressed the crowd with his final thoughts.
"I became an EPIC Warrior because I wanted to make a difference in my community and be a part of a team that show its community that our disabilities do not define us," he said. "We have gone to a food bank, assembled school supply kits, cleaned a park, and participated in many other activities to help the community. I feel very thankful to my God and to you that I am able to help, even if it is in small ways. It makes me very happy that as a team we are making the community a better place. If we set our minds to it, we can make a big impact.… It is great to know that we, the EPIC Service Warriors, are supported and we are not doing this alone.... Your contributions will make a big difference in a matter of hours for this school, and your fundraising effort will help us make our dream of building unity through our leadership and advocacy come true."