By Elana Aurise, Reporter Staff
January 25, 2018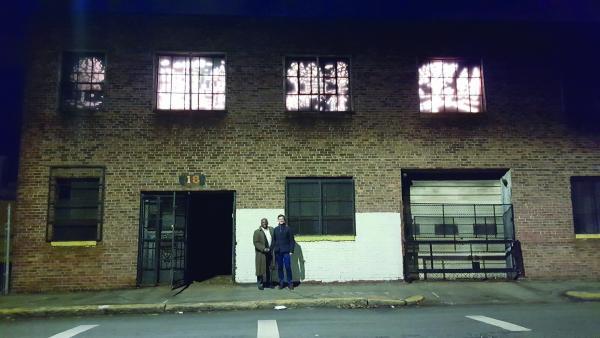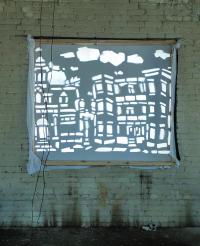 An artist has teamed up with the non-profit Codman Square Neighborhood Development Corporation (CSNDC) to unveil a new public light-art installation on New England Avenue entitled "Shining Strong, Shining Bright."
The bright, dynamic five panel light-art installation by Alexander Golob fills the windows of a now-vacant industrial building on 18 New England Ave. It will be on display until this summer.
Each panel—portraying the equity-related impacts of climate change—features themes of cherishing nature and celebrates the diverse community that is Codman Square. The smallest panel is a leaf and the largest is a traditional three-decker house.
"Since I was brought into this project after a great deal of thought was already put into this affordable, ecofriendly, and transit-oriented development, I saw myself as a facilitator for a vision of extending the vibrancy of the neighborhood into what are currently abandoned buildings and empty lots," said Golob.
Golob Art and Codman Square NDC thought that the lighting would be the most powerful way to make the street more welcoming. They also wanted the community's help in deciding the imagery the artwork would portray. They were most inspired by the children who helped brainstorm the panel ideas for this project.
"When we were engaging the community for themes, it was the children at the event who constantly addressed valuing equity, history, and our climate," said Golob. " It was an inspirational moment for me and I'm looking forward to hearing their reaction when they see that their ideas have turned into a physical work of art in the neighborhood."
The studio works with several non-profits, but this is the first time Golob Art has partnered with Codman Square NDC. Together, they have been working on this project since last summer and the art was installed throughout the holiday season.
"I practice public art because I deeply believe in the power of art in public spaces to lift up individuals and communities. This art installation does that on a number of levels," said Golob. "Content-wise, it celebrates the inclusive and diverse neighborhood as well as how much the community values the world in which it lives. The work also immediately transforms a space that was an under-lit and abandoned street into an inviting extension of the community. And finally, through all of the conversations that went into creating this art, it empowers the community to feel that they have a say in how their neighborhood looks."
For further information on Golob Art, visit alexandergolob.com. To keep up with the work of Codman Square NDC, visit csndc.com.