By Daniel Sheehan, Reporter Staff
August 30, 2018
The barroom known as Peggy O'Neil's has been a fixture on Dorchester Avenue for more than half a century. Now, with an eye trained reverently on the past, Caron O'Neil and her family are ready to transition into the future.
"We've been here since '63," said O'Neil in a recent interview with the Reporter, "so we've seen it, we've been through it: the highs, the lows, the whole thing."
The Glover's Corner establishment is in the final stages of its transformation into a 'blend," a sleeker, more contemporary iteration of the old pub that O'Neil hopes will impress with fresh looks while retaining the character and ambiance that has come to define it.
"Blend's a new name, but there's a lot of history behind this place and the people in it," she said.
The rebranding, which came about organically during a late night brainstorming session, draws on cocktail terms to conjure images of a hip, trendy bar. Set in a lower-case, side-lit font on the building's transformed facade, "blend" and a new motto of "sip. dine. dance." are meant to give the place an updated, sophisticated aesthetic. But, say those involved in reshaping, the name works on multiple levels.
Steven Rumpler, the design services manager at the Mayor's Office of Economic Development and the main creative force behind the project, spoke in an interview to how the new name also represents the bar's diverse clientele. "It's a blend of old and new, gay and straight, black and white," he said. "So it's really a blend of what Dorchester represents, and also what the O'Neil's family legacy is, from the past and going into the future. It seemed like the perfect name."
The extensive transformation, which has taken about a year and a half to complete, has been community-oriented from the start, based on close collaboration between the O'Neils, the mayor's office, Mayor Walsh himself, and the enlistment of local organizations like Dorchester-based Capital Construction, the downtown architecture firm Touloukian Touloukian Inc., and a South Boston-based logo design firm.
Rumpler oversees the Office of Economic Development's Restore program, which provided services and funding to the project as part of its vision to revitalize and modernize Glover Corner's commercial district. The program, born from a BPDA study of the neighborhood, has had a hand in recent renovations completed at several Dorchester haunts, including Savin Bar and Kitchen and home.stead bakery in Fields Corner.
"This is the first large-scale development project that has been completed in Glover's Corner," said Rumpler. "So it's really exciting."
Combined with the mixed-use development at Dot Block slated for completion next year, blend represents a continuation of the process that the mayor's office hopes will send of ripples of change throughout the neighborhood's commercial district.
Yet for the O'Neils, this spirit of change is tempered by an equal, if opposing, desire for familiarity. In the new layout, natural light pours from a bank of storefront bay windows into the revamped dining area, which boasts a new hardwood dance floor and sleek booths and tables. But the adjacent barroom still features a pool table, traditional decor, and, apart from a shiny new marble bar, it is largely unchanged. The dichotomy O'Neil and the design team were aiming for is evident in the two rooms: new and old, juxtaposed next to each other.

The newly renovated dance floor/dining room.
"Rebranding a business that has a 50-year history is always a challenge," said Rumpler. "What we wanted to do is bring this long-established business into the future."
As for her longtime faithful customers, Caron isn't worried about a changeover in clientele that sometimes accompanies renovations or cosmetic changes. She knows all of her regular customers' names and what they tend to order at the bar; that afternoon, a guy named "Bill" was due in any minute for his usual two glasses of red wine. "They're excited," O'Neil said of the bar's old standbys. "They know it's never gonna be a shift where all the old goes out and all the new comes in. That's not what we're about."
"We're all ages here," Caron's sister Tracy chimed in. "Our 91-year-old father still comes here. So do his friends."
Tracy has done the majority of cooking in the past, mainly serving up comfort food like steak tips and pulled pork sandwiches. Going forward, she said, the menu will be more or less the same, but with a greater emphasis on the food side of things. She expects to hire one or two chefs to help her in the kitchen.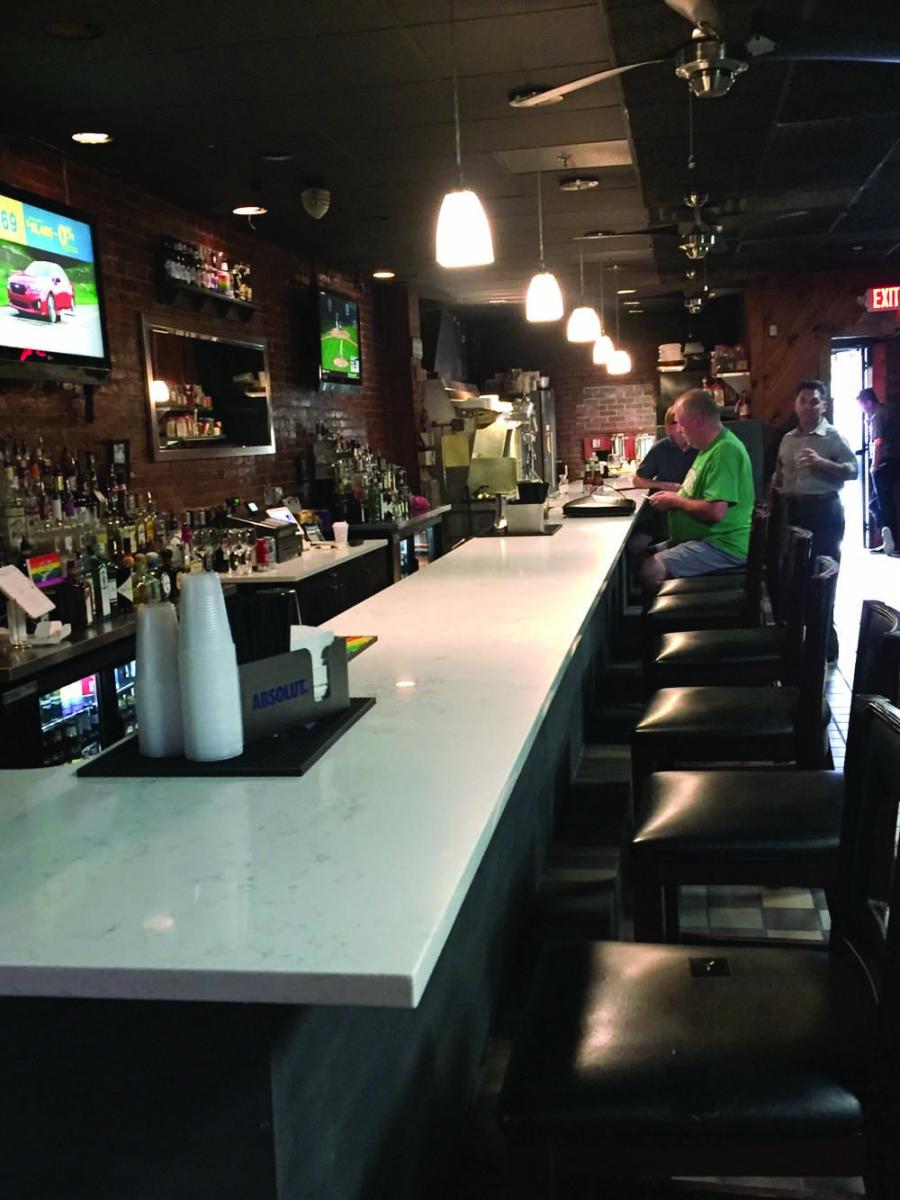 New bar, familiar faces.
As far as programming goes, the O'Neils plan to continue to host the monthly dance parties that have made the site a fixture in Dorchester's LGTBQ nightlife scene. Over the years, Caron has earned the moniker "matriarch of Dorchester's gay community"; Rumpler, who is gay, hopes the redesign will further cement the bar's status as a gay-friendly hotspot.
"There's a very large gay community in Dorchester –I've been here for 31 years," said Rumpler. "Caron's created an incredible opportunity for the gay community, and now there are a number of nights where they're just drawing huge crowds, which is so exciting to see. Obviously dbar has been amazing, but it's nice to see that there's other places for the community to go."
O'Neil said she expects to hold an official opening sometime in September, after some finishing touches on the club's interior. She added that the transformation will continue on into the coming months, when she hopes to turn a sizable chunk of the parking lot into an outdoor patio.
But for now, O'Neil is happy with how the first phase has turned out.
"To see my vision come to life, it's incredible."