By Daniel Sheehan, Reporter Staff
October 4, 2018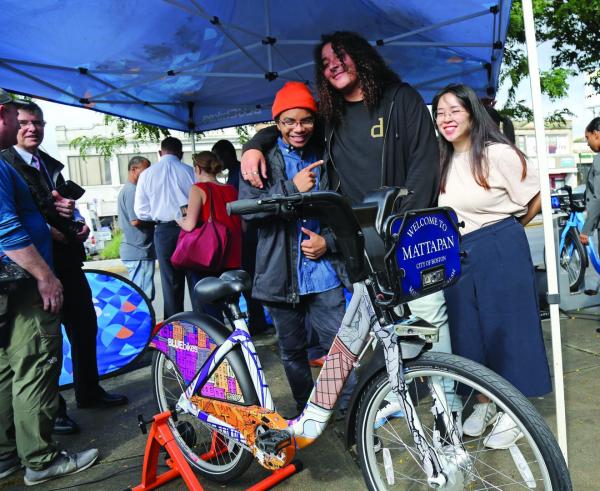 Mayor Martin Walsh and a corps of elected officials and community leaders were in full voice at an event celebrating the opening of a new Bluebikes station in Mattapan Square last week that marked the first expansion of the bike share service into that neighborhood.
For many in attendance, the ceremony represented an important victory in the fight for equal transportation access across the city. "It's an equity question," said Walsh, "to make sure we're reaching into every community in Mattapan, Roslindale, and Dorchester."
Some of these communities, Mattapan in particular, have historically been challenged by a lack of convenient public transit options, with no fast and easy way for its residents to get to resources and job hubs. But with a new Bluebike station in the heart of Mattapan Square, just steps away from the newly completed $20 million Neponset Greenway bike path, city leaders and residents are hopeful that this pattern of relative isolation is beginning to change.
After the ceremony, Boston Transportation Commissioner Gina Fiandaca described her vision for a "network of mobility" in Mattapan, in which the new Bluebikes will play a key role. Gesturing to the dense traffic snarling the intersection behind her, she noted that more widespread access to alternative modes of transportation will help reduce congestion and pollution in a city increasingly plagued by traffic and parking woes.
"You can see right now, it's well into the latter parts of the morning and there's still heavy traffic here," she said. "Providing mobility options to people is really key to unlocking opportunities."
Community feedback was an important part of the planning process for the new stations, added Fiandaca, recalling the neighborhood meetings and surveys that helped the city determine which locations residents felt would be good fits for the new Bluebike stations. Mattapan Square was one of them.
Expanding the bike share program to underserved neighborhoods has been one of the primary goals of Blue Cross Blue Shield since the company began sponsoring the bike share program (formerly known as Hubway) in January and set about rebranding the service, touting increased accessibility for all.
State Rep. Dan Cullinane, who represents parts of Mattapan in the 12th Suffolk District, said he was pleased with what Blue Cross had achieved so far. "To their credit, they didn't set up single stops to check a box and say, 'Oh, we're in this neighborhood or that neighborhood,'" said Cullinane. "They set up a grid so that ridership can thrive here in Mattapan."
Questions surrounding ridership and projections of low bike usage in the neighborhood had been raised for years by Hubway as an argument against expansion, said Cullinane, a stance that he perceived to be negative.
"They were saying that before the path was finished and before the bikes were put in. I just really think it's incomplete to say ridership is low in a place where you haven't yet put the bikes and the path. Now we have a brand new $20 million bike path that allows people to utilize the bikes, right in the perfect location."
Cullinane acknowledged the work done by community advocates like Vivian Ortiz of the Mattapan Food and Fitness Coalition and Lee Toma of Bike Milton as a crucial part of the push for greater bike access. "Their ambassadorship over the last several years made it clear that right here in the community we have folks that choose to ride their bikes," he said.
Next steps will include developing more bike infrastructure in the neighborhood, which is in need of safer bike lanes. But Cullinane says that just having the station in the square and increasing visibility will affect the way people think about biking.
"It's education always, but it's also about making it personal, that if you know someone that rides their bike as their form of commuting, or recreationally, you're more likely to be aware of that as you're driving," he said.
The ceremony concluded with the unveiling of a custom Mattapan-themed bicycle designed by a small team from the South Boston-based organization Artists for Humanity, which connects under-resourced teens with apprenticeships and paid jobs in various creative fields.
Armani Thomas, 17, was one of the graphic designers on the team that created the custom bike. He drew by hand the design on the bike, which features a collage of what he referred to as the community's "assets" – uniquely Mattapan things like the trolley and the pair of statues that mark the gateway to Blue Hill Avenue in Mattapan Square. "It's meant to represent the entire community," he said.
The head designer on the project, 21-year-old Jonathan "Pineapple" Tejeda, spoke to the research that he and his team undertook to home in on an accurate and representative portrait of the neighborhood.
"We knew we were designing a bike for Mattapan, so we wanted to, you know, hear from the people of Mattapan, the people who live here, the people who have family here," he said.
After the unveiling, the design team, community members, and city councillors took turns riding the new bike, which is proudly adorned with a "Welcome to Mattapan" sign on its handlebars.
"It perfectly fits Mattapan," said Tejeda.