By Colin A. Young, State House News Service
April 26, 2018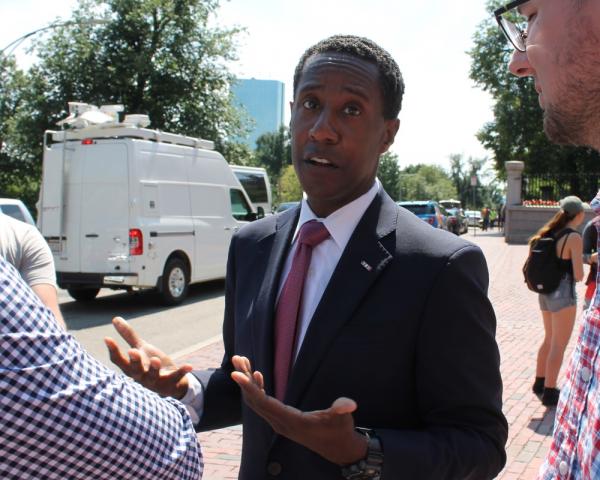 Reshaping the contest about five weeks before the party's nominating convention, former Newton mayor Setti Warren announced Thursday he is quitting the race for governor after conceding he could not raise the money necessary to unseat Republican Gov. Charlie Baker.
In a Facebook post Thursday morning, Warren wrote that nearly a year after launching his campaign and circling the state "this challenge is insurmountable."
"One thing has always stood in our way. Even though we raised a lot of money from small-dollar donations, raising the kind of money we need to build a grassroots campaign that can take on Charlie Baker has been our biggest challenge from Day 1. Today, I have come to the difficult realization that this challenge is insurmountable," he wrote. "The money just isn't there to run the kind of campaign I want to run. After talking to my wife Tassy, I have decided to withdraw from this race."
Through mid-April, Warren's campaign had $51,644.43 on hand, according to the Office of Campaign and Political Finance, compared to Baker's $7.89 million war chest.
A campaign official said Warren would not be made available to the press Thursday.
Warren's departure leaves Democrats the choice between Bob Massie and Jay Gonzalez, neither of whom seem to have gained much traction in the fundraising department. Gonzalez has outpaced his Democratic counterparts with a mid-April balance of $127,418.27 and Massie trails behind with $20,831.25 cash on hand.
A WBUR poll released last month showed that none of the three Democrats running to unseat Baker had gained ground on the popular incumbent since November. Seventy percent of poll respondents said they did not know of Warren and a hypothetical matchup had Baker leading Warren by 34 points (58-24). Gonzalez and Massie were even further behind Baker in those hypothetical contests.
Warren had been working on his campaign with John Walsh, the consultant who got Deval Patrick elected twice, and in his statement Thursday cited the former governor as a source of inspiration for this quest.
"I have always told myself that we could beat Charlie Baker by following Gov. Patrick's advice: stand up for what we believe and organize our communities," he said. "I'm proud that we stayed true to our beliefs, but at the end of the day, grassroots campaigns cost money and it just wasn't there for us."
Both Gonzalez and Massie spoke fondly of Warren on Thursday and each made a pitch for his supporters to join their respective camps.
"When a lack of money forces an excellent candidate to withdraw, it is yet another sign that our electoral system is broken. Setti Warren and I have been friends for many years, and we have enjoyed seeing one another on the campaign trail," Massie said in a statement. "Though money matters, I know that what we have is much more valuable: the growing desire of the people of Massachusetts for a more just economy, more affordable healthcare, a cleaner environment, and a governor who will stand up to Trump."
Gonzalez said he was "surprised" by Warren's decision and left a message for his now former rival to wish him well.
"I've gotten to know Setti very well over the course of the last year. We've spent a lot of quality time together and I really like Setti. I appreciate what he brought to the race. I know this couldn't have been an easy decision for him and I wish him well in whatever he does going forward," Gonzalez told the News Service on Thursday morning.
While fundraising has been an issue for all three Democrats in the race, Gonzalez said he has not had similar discussions within his own campaign to the one that led to Warren's decision to end his campaign.
"Not for a second. We feel really good about the direction of our campaign. We have a lot of momentum and every day our campaign gets stronger from a financial and political support perspective," he said.
Gonzalez's campaign has raised about $200,000 since Jan. 1, and has been spending at a rate of less than $50,000 a month.
"I'm confident that we're going to be strong enough in the fall to take on Charlie Baker," Gonzalez said. "We don't need to raise $30 million in dark money like Baker. We just need to raise enough to get our grassroots message to voters."
The former state budget chief who left the Patrick administration to run a health insurance company also resisted the notion that with Warren out of the race the primary could be defined as a classic insider-outsider contest between him and Massie. Massie was the Democratic nominee for lieutenant governor in 1994.
"I'm not sure how I get characterized as an insider. I'm the only one of the two candidate's left who hasn't run for statewide office before. I'm not a politician," he said.
Warren, a former aide to former U.S. Sen. John Kerry, was a candidate for U.S. Senate in 2012 before dropping out of the race later won by Elizabeth Warren. After serving in the Clinton White House, Warren enlisted in the U.S. Navy Reserves and was deployed to Iraq in 2007 as a naval intelligence specialist.
In his statement announcing his withdrawal from the race, Warren suggested that the political world has not heard the last from him.
"Though this effort was unsuccessful, I still believe in my heart that I have the capacity to help people," he said. "I will continue to look for new ways to serve."