By Daniel Sheehan, Reporter Staff
January 11, 2018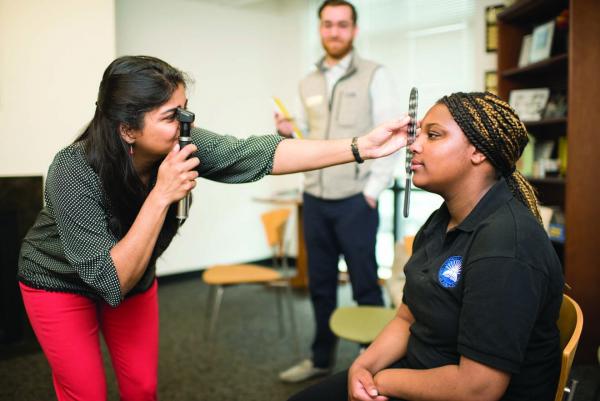 This week, Codman Academy, a public charter school, will begin providing free dental and vision exams to all its students as part of an annual preventive health care initiative made possible through its partnership with the Codman Square Health Center. The screenings, which will take place on site each Tuesday during the school day, have been provided to high school students for the past three years.
As of this week, the collaborative project, named Codman Squared, is extending these screenings to the lower and middle grade levels. Students will be given a form to take home laying out the results of the screening and noting whether or not a child needs follow-up care.
The expanded collaboration, unfunded by federal or state grants, is an innovative step, part of the campaign to improve public health and close the opportunity gap in city schools. Students' health and their academic performances are closely correlated, noted Partnership Director Chetna Naimi, who said the initiative aims to have an impact both at home in and in the classroom.
"Studies have shown oral health to be the single best predictor of overall health," she explained. "Many students in lower income groups lack access to dental care. With our 'Dental Days,' all students get dental screening, a quick cleaning, and fluoride treatment. By improving overall health, this initiative helps to reduce absences and increase attention spans in the classroom."
The screenings have already made an impact: Last year's tests revealed that 40 percent of seventh grade students needed further eye examinations. But the initiative's scope reaches beyond these preliminary assessments. "That's just the first step," said Naimi. "If students need further examinations, we can schedule expedited follow up appointments, in addition to a 30 percent discounts on eyeglasses. If we find an issue, we want to find a solution for it as well."
Logistically, student health exams are convenient as the academy grounds are located either within the same building as Codman Square Health Center or across the street. Students and healthcare professionals share hallways and interact on a daily basis. According to Naimi, Codman Squared uses this proximity to its advantage.
"For students that come from all different backgrounds, this is the best place where they can get access to not only preventive health services, but also inspiration for being in the healthcare field and exposure to the environment of healthcare professionals. Many students gain interest in these fields just from being in the building and then apply for our summer internship program, which allows juniors and seniors to work alongside healthcare professionals at the center."
Several schools are already following the model set by Codman Academy, including The Primary School in East Palo Alto, California, a project started by Mark Zuckerberg and Priscilla Chan that seeks to combine education and health services in a comprehensive approach to learning.
In addition to vision and dental care, Codman Academy offers a range of services to its students, including sexual health education and access to urgent care. The school also plans to implement hearing exams alongside its vision and dental screenings in the coming year.