By Jennifer Smith, News Editor
March 8, 2018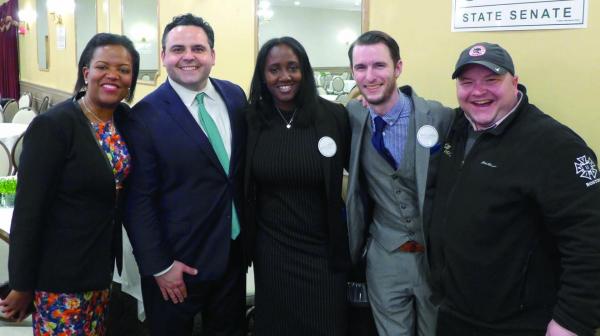 State Rep. Nick Collins, the lone Democrat running for the First Suffolk Senate seat vacated in late January by Linda Dorcena Forry, secured his predecessor's endorsement at the campaign's launch last week.
"Nick is someone that knows the beauty of our city," Dorcena Forry said as she introduced Collins at his Florian Hall kickoff. "He knows that it is about connecting us. He understands the issues that connect us that whether you're from Mattapan or South Boston … we stand together."
Dorcena Forry won the seat in 2013 in a special election, narrowly defeating Collins for the post. At the launch, the Collins campaign highlighted the work the two colleagues have done over the past five years in the areas of economic equality, housing, public safety, education, and transportation.
Initially, Dorcena Forry said she would not be endorsing a successor, with both Collins and state Rep. Evandro Carvalho running for the post. Then Carvalho decided last week to pursue the newly available Suffolk County District Attorney post instead.
Collins will be unopposed in the April 3 Democratic primary, but will face two independent candidates in the May 1 special election.
"Sen. Forry has been a champion for the people of Dorchester, Mattapan, Hyde Park, South Boston, and our entire state," Rep. Collins said in a statement. "It's an honor to have her support as I seek to continue the great work we've done together to build a better city for us all."
"I'm confident that we can enhance public transportation, improve our schools, build affordable housing, and create economic opportunity for all," he added. "I look forward to getting to work on these important issues as the next state senator for the First Suffolk District."