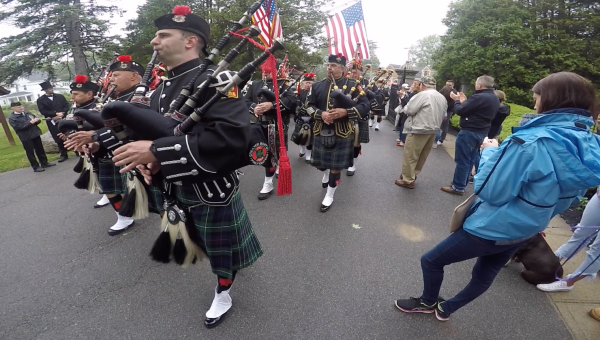 Dorchester observed Memorial Day this morning with solemn ceremonies at Cedar Grove Cemetery that featured a hometown hero as keynote speaker. Ex-Navy Seal and Dorchester native Stephen Butler delivered the main address at a ceremony following the Memorial Day Parade.
Butler grew up on Carruth Street in Ashmont, a neighborhood that he says shaped his future decision to serve his country. "With SEALs, people always think of the physical standards, you know, boot camp and hell week," said Butler. "But it's really the moral characteristics they're looking for, and as far as that goes I think I was already a step ahead."
In giving his speech, Butler became part of Boston's oldest Memorial Day ceremony and one of Dorchester's oldest and proudest traditions. A community fixture since 1868, the parade has regularly featured political dignitaries and distinguished guests, including John F. Kennedy in 1958 when he was a US senator.
The observances have their roots with the veterans of the Civil War era, who began the tradition of marching to Cedar Grove Cemetery after it was consecrated. Monday's events include a solemn ceremony at the Grand Army of the Republic plot and the statue of Dorchester's own Capt. Benjamin Stone, a volunteer who was killed at the Battle of Second Bull Run in 1862.
A second ceremony at a larger stage near the cemetery's main entrance will feature remarks from local political figures and veteran leaders. The morning events begin with the parade to the cemetery from the John P. McKeon Post on Hilltop Street, which is scheduled to begin at 9 a.m.