By Jennifer Smith, News Editor
May 17, 2018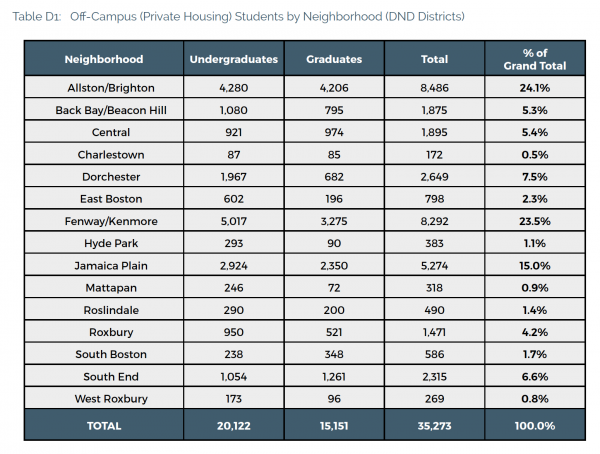 An updated version of the city's fourth annual Student Housing Trends report shows that Boston's colleges and universities are seeing slightly higher enrollment after a year of near stagnant growth, with 44.4 percent (some 36,500) of all students living off campus in private housing.
While no longer tied in the report to growth at UMass Boston's Columbia Point campus, Dorchester has still seen a boom in students living in private housing, a surge that represents the fourth or fifth largest share in the city in that category, depending on city department boundaries.
The initial report was removed from the city's website in March because of issues with data from UMass Boston. A corresponding Reporter article was withdrawn at the same time.
According to DeWayne Lehman, a spokesman for UMass Boston, the first set of enrollment data the university submitted to the city was for total enrollment, including online students, who were not included in previous years. "Therefore," he said, "the enrollment "increase" was not an accurate reflection of our enrollment trend."
He added in an email, "When we became aware of the problem, we submitted a second set of enrollment data that excluded online students so that there was an apples-to-apples comparison to previous years, which accurately showed a slight decrease in enrollment. We are pleased that the city has worked with us to update its report."
In the latest report, UMass Boston enrollment is shown to have dropped about 3 percent in the 2017-2018 school term, to 12,964 from 13,390 the year before. This is a dramatic departure from the earlier data, which reported a 24.3 percent increase in enrollment.
Enrollment in Boston institutions of higher education climbed to 147,689 students in the 2017-2018 academic year, up about 2.8 percent from 2013, and about 1.6 percent over last year's number. So contrary to the initial report, and in large part because of the UMass Boston fluxuation, the city has not reached a new peak in college and university enrollment.
Of those enrolled, undergraduates outnumber graduate students by 92,211 to 55,478, a 7.7 percent jump in undergraduate growth and no change in undergraduates over the prior year. The number of students in private housing in Boston is down 624 compared to fall 2016.
This annual study reviews mandatory University Accountability Reports supplied by Boston-based institutions of higher education who provide the city with the addresses and academic standings of all enrolled students, along with any information on university-owned or leased properties. UMass Boston, as a state school, is in "voluntary compliance" with the 2014 city ordinance that requires housing data, according to the city.
But the Columbia Point institution did not report the breakdown, set out in the ordinance, of its students living off-campus in a "master lease" unit, at the home of a family member, or in other private housing. Without that distinction on the books, the city treats all UMass Boston students as living in the private housing market, which results in UMass Boston ranking as the second highest contributor of undergraduate students to private housing in the city — 3,999 students, after Northeastern University's 5,597.
"UMass's methodology results in an overestimation of the total number of students living in the private market," a city spokesperson said Wednesday morning. "While it is simpler to work with more consistent data sets, for the purposes of shaping housing policy, we are able to work with this larger number."
With changes in UMass data accounted for, student increases in the city trace predictable patterns. Most of the growth in enrollment between 2013 and 2017, the report noted, comes from Northeastern University, which during that period added 4,101 students (15.5 percent), 3,200 of whom were graduate students.
Based on city planning agency districts, Dorchester is home to 2,894 student living in private housing off campus, mostly in the 02125 zip code, including students living from Uphams Corner to Columbia Point. This is a significant jump over the roughly 750 in the entire neighborhood noted in the 2016-2017 report.
While college-heavy neighborhoods like Allston/Brighton (24.1 percent) and the Fenway/Kenmore (23.5 percent) areas still house most of the off-campus students, the rise in Dorchester leaves it accounting for 7.5 percent of all students living in the private housing market. Mattapan remains a minuscule factor in the equation, hosting but 0.9 percent of the city's off-campus student population.
Although the graduate student population living off campus in private housing has been outpacing the undergraduates since 1995, the report notes, they have "less impact on the private housing market than a corresponding growth in undergraduate enrollment," as they are often working adults and not living in private housing exclusively to study.
About 16,700 students are living in in single-, two-family, or three-family homes and condominiums in the city's private housing market, consuming housing options that traditionally served families. "Every unit rented to students shrinks the pool of housing available to Boston's workforce and increases the pressure on the supply of unsubsidized affordable middle-income housing," the report reads.