By Elana Aurise, Reporter Staff
January 25, 2018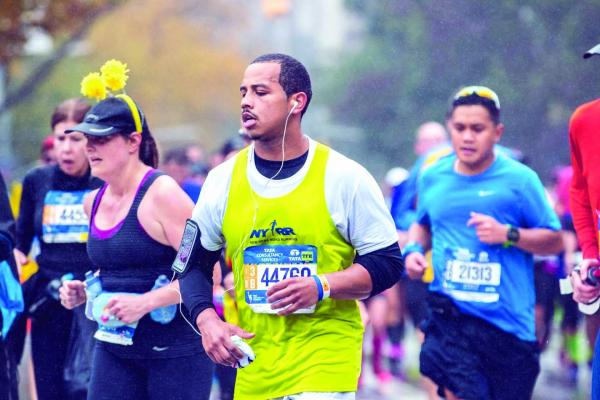 Dorchester native Jeremy Colon, 25, will run in the Boston Marathon for the first time this year. Founder of Jeremy Colon Enterprises, a physical fitness center focused on mind and body transformation, Colon is running because he wants to continue to help survivors of domestic violence.
He is competing as a member of Team Casa Myrna, Boston's leading women's shelter for survivors of domestic violence.
A certified personal trainer and life coach, Colon earned his certification while working towards his degree in business management at Lesley University. He developed and executed the idea of an in-home training facility with a more personal and private approach for the people he trains.
He has his clients focus on progressing to the next level of self-sufficiency through goal-setting not only for their physical fitness, but also for their mental well-being.
Colon chose to help raise funds for Casa Myrna, an organization that offers services, shelter, and support to over 1,000 survivors each year.
"Not all violence has to be physical," he said. "It can be emotional, too. When I was in that situation, it brought me down and I didn't feel like myself anymore. Nonetheless, it was damaging, and it left a scar on me. When the opportunity came up to run for Casa, it was a no-brainer for me to do something for those that were in the same boat."
A survivor himself, Colon wants to give a voice to the voiceless. He wants to raise awareness about the root causes of domestic violence and how people can start over and get back on their feet.
"A lot of things happen in our homes and in our lives that we don't speak about. I want to spread awareness and let those know that there's an option. There's hope, and they can get out of those situations," expressed Colon. "I didn't talk to anyone because I was stubborn. We can't always do everything by ourselves, and there are people out there that are willing to help. There's always a way out so that's why I'm running; for them. I want to give them that option."
Colon completed the NYC Marathon last November, but he's preparing for April's Boston Marathon by customizing his program with kickboxing and hit-training in addition to running four times a week.
Amid the training haze, Colon will focus his fundraising efforts to reach his $10,000 goal by putting together charity boot camps at kickboxing gyms in Quincy and hosting various events at restaurants and breweries in and around the Boston area.
To learn more about Casa Myrna and donate to Colon's cause, visit his fundraising page at bit.ly/JeremyColon. If you'd like to mail a donation, please make it out and send it to: Jeremy Colon's Marathon Fundraiser, 53 Edwin St., Dorchester, 02124.