By Daniel Sheehan, Reporter Staff
April 11, 2018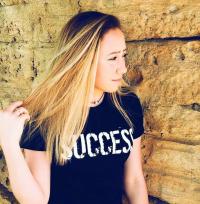 A Dorchester teen won a PBS-sponsored "Celebration of Music" talent competition last weekend in Boston and will be heading to Los Angeles later this year to appear in the national TV series finale. Laren England, 17, who goes by the stage name Laren Taylor, teamed up with Hull native Tori Jones to enter the competition as a duo.
After winning the competition through an online vote, England and Jones performed Sunday at the Wilbur Theatre alongside piano prodigy and co-host of the series Ethan Bortnick.
England, a junior at Boston Arts Academy, has already enjoyed success in her solo career, performing the national anthem at Red Sox and Celtics games, releasing her music on Spotify, and walking the red carpet at the American Music Awards in November. She has one foot in the music industry door, but her win means she will be awarded the opportunity to record a single with Bortnick, as well as access to agents, managers, and recording companies in Los Angeles.
Both Laren and Tori also recently featured on Mix 104.1 15 seconds of fame with Matthew Reid. Laren's new music video for her single, "Here We Are," is now streaming on Vevo, YouTube, Spotify, and Amazon Music.