By Jonathan Ng, Reporter Correspondent
June 21, 2018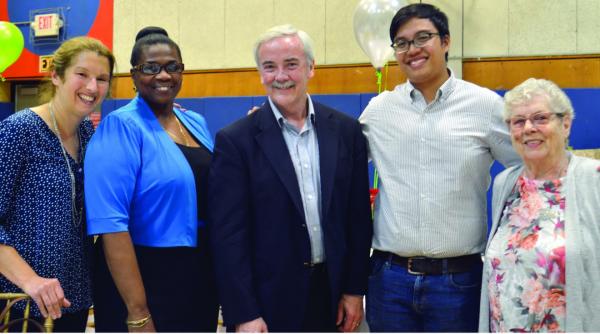 DotHouse Health held its annual dinner on June 14 to honor its employees and board members. The event, now in its 26th year, brings together the governing board and staff as the Fields Corner-based institution issues its annual report.
Forty staff members were presented with longevity awards. Their collective tenure represents more than 560 years of service to DotHouse Health. Ellen Everson, who will be retiring soon after 45 years at the center, helped greatly to boost the longevity number.
City Councillor-at-Large Annissa Essaibi-George issued Letters of Citation to outgoing board members Kevin McDermott, Rosemary Gallagher, and Judi Smith in honor of their service and retirement. Megan Sonderegger, currently a board member, will succeed McDermott as the new board chair.
Michelle Nadow, DotHouse Health president and CEO, said the annual report "highlights the power of connection, from cutting-edge, integrated programs built around community need to our partnerships within and beyond healthcare to best support patients."
DotHouse hired a public health dental hygienist and found room for a dental suite in their pediatrics practice with the help of a grant from the Health Resources and Services Administration. With this added staffing and space, Nadow said, more than 300 children and 100 adults are able to receive oral exams, cleanings, and other dental care services previously unavailable.
Additionally, Nadow said, DotHouse partnered with a vendor to support its call volume, resulting in a 31 percent drop in call abandonment as patient wait time decreased from 15 minutes to under six seconds. If a patient's call has not been answered in 30 seconds by a staff member, "the call is directed to the vendor who are trained to assist our patients just as our own staff would," she said.
As the opioid crisis spills across the region, Nadow said, community health centers across Boston are also seeing an uptick in opioid-related overdoses between the ages of 18 to 24. In response, Nadow said, DotHouse has "expanded our community outreach work by distributing Narcan to individuals, friends, or family that use opioids with training sessions."
Narcan is a nasal spray that reverses the effects of an opioid overdose.
"Sixty-one percent of our patients live in areas that surround the health center," said Nadow, adding that more than 21,000 patients were served last year. "DotHouse will continue to maintain as a community-based health care center that serves the Dorchester community and its citizens."
The full annual report can be viewed at the center's website, dothousehealth.org.