By Bill Forry, Editor
March 29, 2018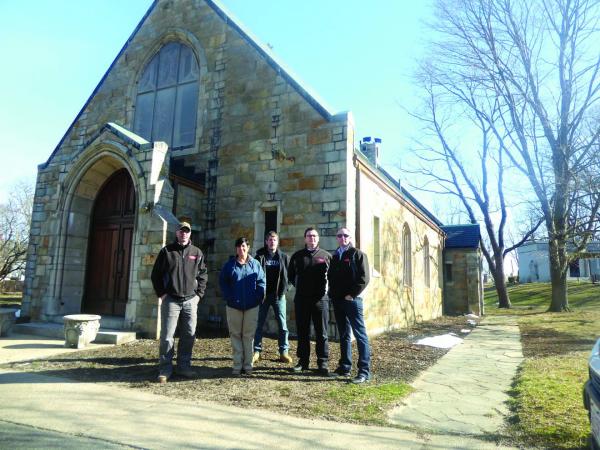 A chapel on the grounds of Cedar Grove Cemetery will be the focus next month of a significant restoration project meant to bring the impressive stone edifice back to its former glory. The Gilman chapel— named for the husband-and-wife benefactors who funded its construction in 1930— is in urgent need of repairs, particularly to its stone exterior and windows, where moisture infiltration has become a worsening problem in recent years.
Capital Construction, a Dorchester company with expertise in repairing historic structures across the region, has been contracted to begin the initial phase of work, at an estimated cost of about $105,000.
David Arrowsmith, who owns Capital and the popular Adams Village restaurant The Industry, said that his team is eager to get started on a project that has special significance to the community where they are based.
Arrowsmith said that work crews will begin assembling scaffolding on the exterior of the church building in late April. The work will include the painstaking removal of existing stonework around the 12 windows of the chapel to allow for new flashing to prevent future moisture damage. Crews will tear down some of the interior walls inside the building and put up new plaster that will then be painted. Parts of the original slate roof —some of which is in disrepair— will also be replaced.
Thankfully, much of the chapel's beautiful wood ceiling and decorative doors are in great shape and will not need to be fixed at this time.
Capital's team of workers has experience in working on some of the city's most iconic historic treasures. The Dorchester firm was brought in to install copper panels on the USS Constitution last year when it was in dry dock for repairs. Their team also worked on repairs to gutters of the Ebenezer Hancock building in Boston, one of the city's oldest brick structures.
The stained glass that frames the chapel's two largest windows front and rear will also need some repairs, but will not be included in the first phase of restoration, according to Arrowsmith.
Paula Rush, who serves as the cemetery's office manager, said that the cemetery's trustees voted recently to authorize the project, which is expected to take about six to eight weeks to complete once it begins in late April.
"We did look at other vendors, but it was important to us that we go with a Dorchester company," said Rush. "Capital understands what this chapel means to the neighborhood."
Rush says that the building is often used for funeral ceremonies, but is also a regular destination for other special events, including weddings. There are two memorial Masses held inside the chapel each year— one in May before Memorial Day and another in December— which are traditions for Dorchester families.
The cemetery is one of the neighborhood's most treasured spaces— and not just for people who have loved ones buried there. Consecrated as a burial site in 1867, it is the final resting place of many of Dorchester's military dead from the American Civil War up to Iraq. The annual Memorial Day observances inside the cemetery draw large crowds to Cedar Grove each year, a tradition that dates to 1868.