By State House News Service
September 13, 2018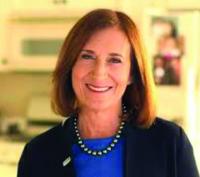 As she wages a campaign to unseat Treasurer Deborah Goldberg, Rep. Keiko Orrall has asked that a House committee "assess" the planned move of the Lottery from Braintree to Dorchester's Columbia Point and look into how the decision was reached.
Said Orrall, a Lakeville Republican running for treasurer: "I am deeply concerned about the cost of this move to the Commonwealth and the negative impacts that a disruption of the Lottery will have on local aid to our communities,"
[The new offices will be located at 150 Mt. Vernon Street, which houses several tenants including UMass Boston, the state's Registry of Vital Statistics, the Dorchester Reporter, and Corcoran-Jennison Companies, which owns the building.]
Rent for the new headquarters will be "significantly higher than the old lease," Lottery Executive Director Michael Sweeney said in March, costing the Lottery roughly $1.4 million for the first several years. The 10-year lease in Dorchester is expected to cost a total of $15.2 million.
"The Lottery has provided information regarding the move to anyone who has asked, and will continue to do so," Goldberg spokeswoman Chandra Bork said. Since raising the prospect of a move in early 2017, Goldberg has said it will help the Lottery as it attempts to modernize itself, especially as it tries to attract younger and more technologically knowledgable employees.