By Madeleine D'Angelo, Reporter Correspondent
November 15, 2018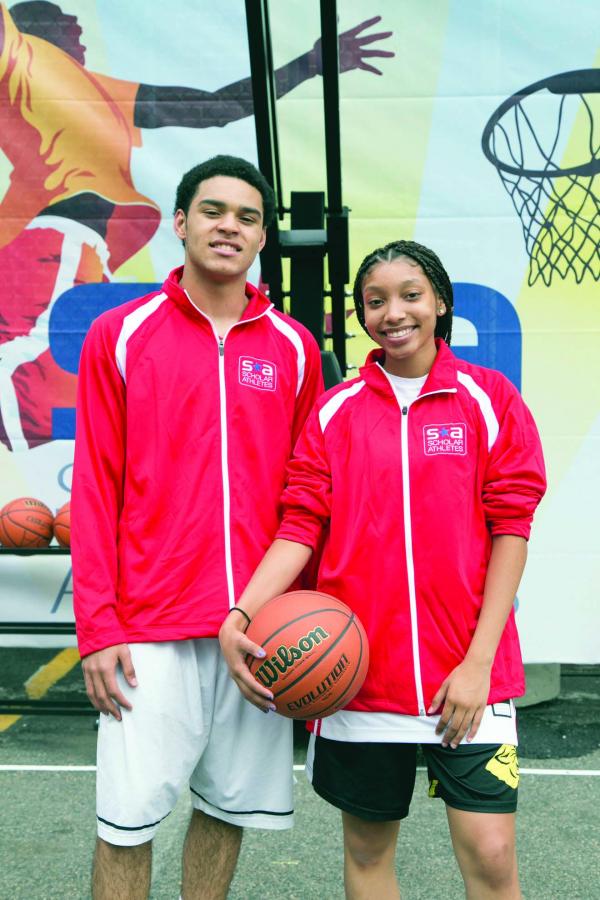 Student-athlete program in BPS getting it done

Even with a last-minute venue change and temperatures in the low '40s, the fields at Madison Park High School in Roxbury were swarming with players last Wednesday evening for the 2018 Boston City League and Scholar Athletes Girls Soccer All-Star game.
Families huddled along the sidelines, cheering their players on as they raced up and down the field, silhouetted against the background of a twinkling Boston skyline. This event was one of three all-star games that will be played in Boston this month.
For Da'siah Thornton, a senior at Fenway High School, the game at Madison Park resonated with a special kind of excitement. After playing in five such all-star games throughout her high school career, she had reached her last one, and she planned to go out with a bang.
With two goals under her belt by the time the final whistle blew, Thornton was the leading scorer and the key to her side's victory. It was the dream ending to her run with Scholar Athletes, a program that has been instrumental in shaping her experience in the Boston Public Schools.
Over her years in the school system, Thornton has been one of some 4,000 BPS students who each year have participated in the program founded by John Fish, the president and CEO of Suffolk Construction, the Roxbury-based company that also houses the offices of Scholar Athletes.
When she walked into Fenway High her freshman year, she didn't know much about the school, let alone Scholar Athletes. The Charlestown native navigated her way through the student body and joined the basketball team, a move requiring mandatory study halls in "the Zone"—learning centers specifically for Scholar Athletes that are equipped with the resources to support students as they balance academics and athletics. The study spaces quickly came to be important stops in Thornton's daily life.
"Instead of being mandatory, the Zone started being a chill spot that I would just go to get some work done," said Thornton. "It was quiet at times, but sometimes you would just go in to talk to the other athletes."
Spending time in the Zone, she said, felt like being "home," being connected to her teammates. The shared challenge of navigating school as athletes linked them together and provided a base of shared experiences from which friendships quickly arose.
"To have that sense of comfort, it was like it didn't matter if I didn't talk to a lot of people in this school. I felt comfortable in this one space," Thornton said, "and in this one place, everybody understood what I was going through and what I was saying, and was just there to listen."
As she nears the critical part of the college application season, Thornton's Zone administrator helps her make edits on her final application essays, helping her put in any missing bits and pieces.
"It's just that extra help, that extra step to make sure you're in the right place," she said.
Daphne Griffin, the executive director of Scholar Athletes, says the Zone administrators are the "heart" of the program. Scholar Athletes operates in 24 schools across the Commonwealth, including at the Jeremiah E. Burke High School and TechBoston Academy in Dorchester.
"Our program coordinators, our program assistants, they're the ones that build the positive relationships with our young people," said Griffin. "They serve as both academic coaches and sport activity coaches in many cases … So our staff are really what continue to bring more young people in the door to the Zone, making sure that while we're helping them get their homework done and their projects done, that we're also working with those kids who need academic coaching and mentoring to go past their GPA."
These staff members, she said, help shift the mindset of students, pushing them to develop a "college or career-bound thinking and mentality."
The All-Star games give the community a chance to cheer on Thornton and other students like her. They bring together Student Athletes from across the BPS system and mold them into a team with mind-blowing talent. Although the athletes have to develop a rapport and a dynamic within a short period of time— Thornton had never met most of the girls she played with last Wednesday until the match—they often do it seamlessly, transitioning from opponents to teammates cheering each other on.
"It's a powerful message of building community in our city, and it's happening right there on the field," Griffin said.
A Boston City League and Scholar Athletes volleyball all-star game for girls will be played at Simmons University Sports Center on Thurs., Nov. 15 at 5 p.m. For more information, see wearesa.org.