By Maureen Forry-Sorrell, Reporter Staff
July 12, 2018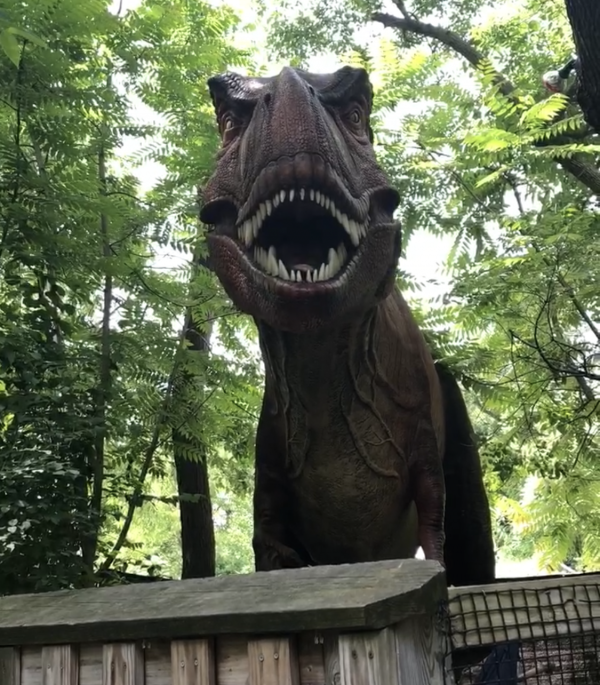 The summer heat is seriously upon us, and we at the Kids Menu have been more than happy to stay inside in the A/C to find the coolest activities around Dot for you and your families.
If you haven't yet checked out Dinos! at Franklin Park Zoo, add that to your list, pronto! This super fun and immersive experience features life-like animatronics paired with an educational and thrilling backstory that takes visitors into the lives of Dinosaurs. There is also the opportunity for budding paleontologists to take part in a Fossil Hunt. "Destination Dino Experience" tickets include admission to Franklin Park Zoo as well as admission to Destination Dino! Adults: $24.95 Children: (2-12): $18.95 Seniors: $21.95 Purchase online and save 15 percent: https://goo.gl/ANAotY
Fun Stops at Community Centers: City-run "fun stops" for kids ages 8-14 opened on July 9 and will continue through Aug. 18. These afternoon events feature structured activities including board games, sports, arts and crafts and more from 12 noon to 5 p.m. each weekday. No pre-registration is required, however, parents must fill out a brief waiver form that contains the necessary emergency contact information as well as allows youth to swim during scheduled times at the pool locations. Each Fun Stop is open on a first come, first serve basis, and is limited to 50 youth per day. Many of the Fun Stops are able to provide lunch through the Summer Food Service Program, but please confirm with the site.  The BCYF Leahy-Holloran Community Center at McMorrow Field operates from 2-8 p.m. BCYF Mildred Avenue Community Center, 5 Mildred Avenue, Mattapan.
Also this weekend: On Sat, July 14, 11 a.m. Boston BCYF Girls' Night at Franklin Park Zoo. All Ages. Learn more and sign up at Boston.gov/BCYF-Girls.
The Sportsmens Tennis Club and Enrichment Center, 950 Blue Hill Ave., hosts the Roy E. Neblett Tennis Tournament on Sat., July 14 from 9 a.m.-5 p.m. Proceeds go towards dedicating a court in Roy's Honor. All are welcome. Bring a partner or the club will find one for you. The first-place team wins $140, second-place wins $80. The entry fee is $40 per person.
To register: mlong@sportsmenstennis.org.
Don't forget about STEC's community Tennis every Sunday from 3-5pm (950 Blue Hill Ave). They have tons of fantastic summer programming for the whole family- check out sportsmenstennis.org for the full calendar of events. And, mark your calendar now for the Sportsmen's Tennis Ball on Nov. 16. This celebratory semi-formal annual event showcases another year of great tennis and academic achievement at Sportsmen's. This event will take place at Lombardo's in Randolph. Go to sportsmenstennis.org for more details.
Sat., July 14, 9 a.m. — Outdoor Yoga series every Saturday through September 22 under the trees on School Master Hill at Franklin Park.. In the event of rain, classes will be cancelled; please check Linda Wellness Warrior's Facebook page for notices-posted by 9 p.m. the night before for morning classes. All levels welcome. Contact@lindawellnesswarrior.com
Mon., July 16- July 20 Boston Little Coders Academy at Sonny Walker Computer Center BPS Parent University is collaborating with BPS Technology department to host a free, five-day Boston Little Coder Academy for 5 - 7 year olds. This program is offered for Boston Public Schools families only. Please contact Carmen Vega (cvega@bostonpublicschools.org) & Rashmi Pimprikar (rpimprikar@bostonpublicschools.org) for more information.
Tues,. July 17, Outdoor Rx Summer Series. 10:30 a.m. at Ronan Park. email egrilli@outdoors.org
Wed., July 18 at 4 p.m. at Adams St Library. Boston Public Library is challenging the city to read one million minutes this summer! Join us each week to kick back with good books and refreshing lemonade in the Friends Reading Garden. If you attend a Read In event your minutes will be doubled. All ages are welcome.
Tues., July 24, — BCYF Girls Night at Boston Bowl. All ages. 4-7 p.m. Learn more and sign up at Boston.gov/BCYF-Girls.
Sat., August 4 — Tenean Beach Day starting at 11 a.m. Family fun on the beach, hosted by the Port Norfolk Civic Asoociation and Save the Harbor Save the Bay.
Tues., August 7— BCYF Girls' Night Lip Sync Battle, 5-7 p.m. at the Perkins Community Center. Learn more and sign up at Boston.gov/BCYF-Girls.