By Jonathan Ng, Reporter Correspondent
August 30, 2018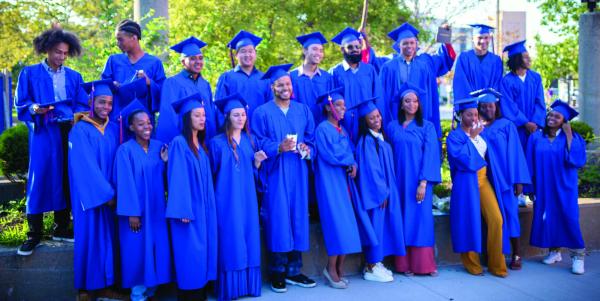 More than a dozen matriculating students received their high school equivalency certificates last Thursday during a ceremony at Roxbury Community College and will start this fall as incoming college students.
What makes this group unique is that they are former gang members who will receive a $400 weekly stipend as part of the Boston Uncornered program, an initiative started by education nonprofit College Bound Dorchester. The stipend seeks to address the lack of income that might tempt them back on the street instead of working towards a college degree. Applicants in the program attend Bunker Hill Community College, Roxbury Community College and Benjamin Franklin Institute of Technology.
The initiative is the brainchild of the nonprofit's executive director, Mark Culliton, who started the program two years ago with the idea that the gang members are "core influencers" in neighborhoods most affected by gang violence. Through financial incentives and mentorship, he believes, these students can be positive agents of change that will lead to lower rates of crime and unemployment.
"It gives active gang members a choice to put down their old tools of the trade and pick up books and head onto a college," said Culliton. "We are one of the very few gang-intervention programs in the country that is investing in the kinds of support that will have an immediate positive economic impact on our Dorchester communities."
Kenny Schoonmaker is a Boston Uncornered advisor and spends most of his time in the neighborhoods recruiting the next cohort of students.
"We get a lot of guys out of prison and are active on the streets," he said. "We try to change their mindset and outlook. I've been shot at and locked up for drugs. I can relate to these guys first-hand."
Schoonmaker is talking about individuals like John Miguel Pereira, who said he was introduced to the criminal justice system when he was arrested at the age of 12. Since, Pereira has served nearly 13 years in state and federal prisons.
Shortly after he was released from prison, Pereira said he was approached by a friend who told him about College Bound Dorchester.
"At the time, I was homeless and broke," he recalled. "I had nothing and I told them college was not for me."
Without the stipend and mentorship, Pereira said, he couldn't think of going to school when he was more worried about finding housing, a job, and food on the table. Now, he will study broadcast media technology this fall at Roxbury Community College.
"I'm looking for a future in journalism," he said. "I hope to bring social injustices to light. I used to dream of finishing school and traveling the world reporting about the various states of humanity. Thanks to the wonderful staff at College Bound, that's a dream within my reach."