By Reporter Staff
November 15, 2018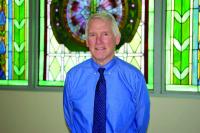 "Today is a bittersweet day here on Morrissey Boulevard," wrote Boston College High School President Grace Cotter Regan last week in announcing that Stephen Hughes will retire as principal of the school next June at the end of the academic year.
"I don't need to tell any of you that Steve is an absolute treasure to our community," Regan wrote in a letter to the BC High family on campus and beyond. "Above any facts, figures, or stories about him and his multitude of contributions to our school, he has been the very definition of 'a man for others' since he first set foot on campus from his Savin Hill neighborhood more than 50 years ago."
Hughes began his professional career at the school in 1978 as a social studies teacher and football coach. He later served as athletic director for close to 25 years.
"In 2002, Steve became principal and has led our school gracefully ever since," said Regan, "guiding our students with competence, conscience, and compassion, he has remained devout in his faith and committed to our mission, making everyone around him better."
She added: "The culture of our beloved school is fostered and nurtured by dedicated servants, like Steve, who live their faith and pursue a more fair and just world by impressing upon our students the values of the Jesuit tradition and the education of the whole person. He has challenged and inspired almost every young man who has walked through our doors over the last 40 years, teaching each one the importance of becoming a man of integrity, educated in faith and for justice, and dedicated to academic excellence and service to others."