By Reporter Staff
December 6, 2018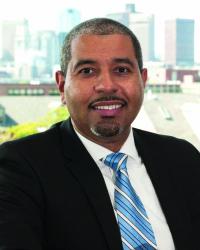 Manny Lopes of East Boston has been appointed to chair of Boston's Board of Health, a seven-member governing body that oversees the work of the Boston Public Health Commission (BPHC). Lopes succeeds Dorchester's Francis Doyle, who stepped down in October from the Board to assume a leadership role within the Massachusetts Department of Public Health.
"We are fortunate to have Manny Lopes as the new chair of the Board of Health and look forward to working with him in this new capacity," said Mayor Walsh. "Over the past several years, Manny has built a culture designed to provide the best possible care for patients at the East Boston Neighborhood Health Center. Having served on the Board of Health since 2015, he is already aware of the current and emerging challenges and opportunities facing the Commission's work today and I'm confident that he'll do great job leading the Board."
Lopes currently serves as president and chief executive officer of East Boston Neighborhood Health Center (EBNHC), one of the largest community health centers in the country. He becomes the first person of Cape Verdean descent to be named Chair of the Board of Health in Boston.
"I am excited to have Manny as Chair and to work closely with him and our Board to implement strategies and initiatives to advance the health for all Bostonians," said Monica Valdes Lupi, Executive Director, Boston Public Health Commission. "Given his leadership at the health center, he has a keen appreciation for the public health challenges that our clients face and brings great energy and experience in innovating to this role." 
For more information on the Board of Health, please visit bphc.org/boardofhealth.