By Staff
September 4, 2018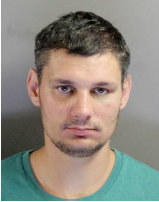 A 36 year-old man from Malden has been convicted in the brutal stabbing death of a barber outside his own shop near Adams Corner in 2014.
A Suffolk Superior Court jury ruled that Dominic Shiner is guilty of voluntary manslaughter in the death of Sean Dwyer, 29. He is due to be sentenced on Wednesday. Shiner was also convicted of trying to intimidate a witness in the case.
Dwyer was found dead on the street outside his barbershop on the evening of Dec. 12, 2014. Prosecutors showed that Shiner had visited the store on Dec. 10 seeking money from Dwyer.
"Witness statements, video footage, telephone records, social media postings, and other evidence proved that Shiner returned to the shop on the evening of Dec. 12 and stabbed Dwyer once in the chest, causing fatal injuries," said a statement from the Suffolk County DA Dan Conley's office.