By Reporter Staff
February 1, 2018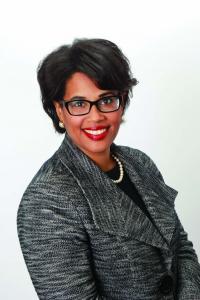 Tanisha M. Sullivan, Esq., the president of the NAACP Boston Branch, will be among the honorees at the Girl Scouts of Eastern Massachusetts' 26th annual Leading Women Awards next month.
Sullivan is the Head of Legal Industrial Affairs for Sanofi Genzyme and Sanofi North America.
Sullivan will be honored alongside Diane McLoughlin, Chief Client Officer for Eagle Investment Systems, a BNY Mellon Company; and Elizabeth Stevenson, LP.D, CAPT, Vice President of Enrollment Management and External Affairs, Massachusetts Maritime Academy.
Under Sullivan, the NAACP in Boston is a leading voice on issues of racial diversity and equity in policing, economic development, and public education in and around the City of Boston. She serves on Governor Charlie Baker's Massachusetts Black Advisory Commission. She is also the recipient of the Boston Business Journal 40 under 40 honor, the NAACP Boston Branch Next Generation Leadership Award, and, most recently, the 2018 MLK Legacy Award at the 48th Annual MLK Memorial Breakfast in Boston.
"These accomplished women are incredible role models for our Girl Scouts across eastern Massachusetts, showing girls that there are no limits on what they can achieve," says Tricia Tilford, Board Chair and President, Girl Scouts of Eastern Massachusetts. "We are truly honored to recognize these three inspirational women, who have made unique contributions to our council, all while exemplifying what it means to be a go-getter, innovator, risk-taker, and leader."
Girl Scouts of Eastern Massachusetts embraces diversity and inclusion, and is committed to ensuring all girls in eastern Massachusetts, regardless of their circumstances, have access to the Girl Scout Leadership Experience. Support for the Leading Women Awards allows the council to maintain our powerful leadership development programming that prepares girls to empower themselves. The event is further supported through the generosity of business sponsors, including lead sponsor BNY Mellon.
Girl Scouts of Eastern Massachusetts has honored more than 200 women with the Leading Women Award since its inception in 1992.
The breakfast event will take place on Thursday, March 1, 7-9:30 a.m., at the Sheraton Boston Hotel. For more information or to purchase tickets, visit gsema.org/LW.