By Kevin Perrington-Turner, Reporter Correspondent
September 6, 2018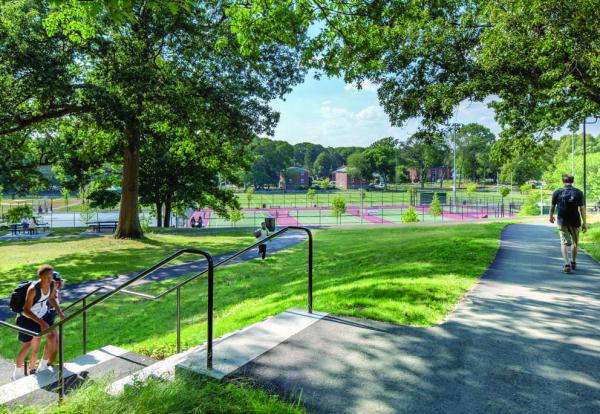 Mattapan neighbors are hailing the results of a rejuvenated and revitalized Almont Park as a busy summer season winds down.
City investments over the last several years have resulted in a major enhancements, including a new football field, tot lot, cricket field, two basketball courts, three tennis courts, a baseball field, and a quarter-a mile track.
Earl Faulk, a key advocate for the park, says the park has never been so well used in the 40 years he's been involved.
"Mattapan has had such a bad name over the years with the gangs and shootings. So, what we have done is gotten them out of the field. So now it's a family-oriented park," Faulk said. Throughout the summer, the park is frequented by everything from BNBL basketball and child care programs to Bible and Zumba classes.
"To see everyone using the park is great. It really is a modeled park that is used for everybody," said Ryan Woods of Boston's Parks and Recreation Department. "The park has turned in to a park for everybody. The new artificial park for the Mattapan Patriots and the basketball games that happen on the basketball courts. With the new lighting people feel safe at the park."
The Mattapan Patriots football and cheerleading program is going strong. Last year, they had around 300 children sign up to play football, along with about 50 cheerleaders. During the evenings this season they can be seen practicing on the artificial turf field.
Faulk said that Boston Police have visible patrols each day at the park new, bright lighting that has made people feel more secure.
Although the park's enhancements are mostly completed, according to Faulk, "We enjoy it, but it's still not completed." Faulk is pushing for a 'finished cricket field, some more lighting, and a finished baseball field.'
Rasheeda Faulk, who conducts Zumba classes for kids every Thursday from 6-7p.m. through September 29, called the enhanced park features "amazing."
"This new park is safe, beautiful and well maintained, but most of all fun.  There are all kinds of ways to stay active and fit with easy accessibility."