By Daniel Sheehan, Reporter Staff
August 23, 2018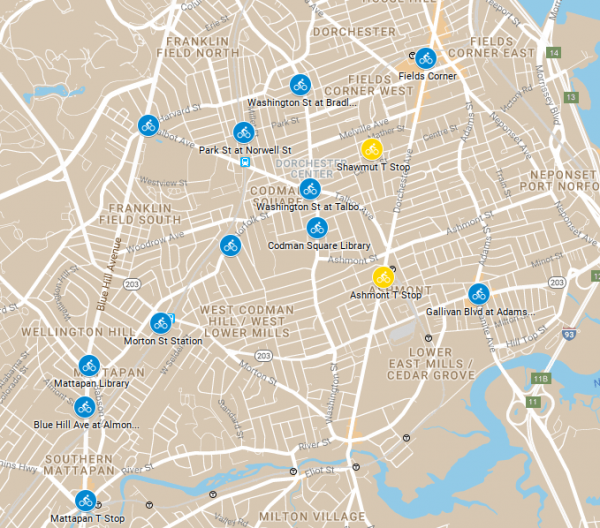 Last week, Mayor Martin Walsh and Boston Transportation Commissioner Gina Fiandaca announced the first phase of the city's largest bicycle share expansion to date, which will see ten new Bluebike stations opened in Dorchester and four in Mattapan by the end of the year.
Preliminary details of the expansion were announced earlier this year, but the exact locations of the planned stations had not been previously disclosed. A map of planned locations posted to the city's website shows stations set to open in the next few months at the Fields Corner, Ashmont, and Mattapan T stops, as well as at the Codman Square Library, the corner of Talbot Avenue and Blue Hill Avenue, and the Gallivan Boulevard/Adams Street intersection, among other places.
Prior to this expansion, much of the southern part of the city had been without access to bike-share stations. Local community leaders hope the southward expansion will address gaps in transportation service that have historically ignored parts of Dorchester and Mattapan and left largely minority communities starved of easy transit options.
Becca Wolfson, executive director of the Boston Cyclists Union, told the Reporter that a bike share program in Dorchester and Mattapan has been sorely needed for quite some time.
"This expansion has been long-anticipated by the community, and we're very pleased to see the new stations and know that more are on the way next year," she wrote in an email. "What I've noticed is the number of young people you already see biking in Dorchester and Roxbury on Bluebikes."
However, Wolfson also noted that adding more stations is only one part of the solution, stressing that the city has "a responsibility to keep everyone safe" by adding more bike lanes and paths.
"This expansion addresses issues of transportation equity, but achieving a more just and equitable bicycle and transportation network does not just mean equitable access to bicycles — it means equity in installation of safe bike infrastructure," she explained. "Are people going to feel comfortable biking on Blue Hill Ave from Mattapan to Dorchester, or on Dorchester Ave [to jobs] in downtown Boston and the Seaport? Absolutely not."
Speaking on behalf of the Mattapan Food and Fitness Coalition, co-chair Shavel'le Olivier expressed a similar mix of optimism and caution.
"A lot of residents in Mattapan don't bike because they either don't have a bike, or they have one but don't know how to fix it, or because they don't know where to ride," Olivier told the Reporter. "So now, thankfully, the first of those obstacles is eliminated...We are also excited about the ways [Bluebikes] can help improve the health of Mattapan residents and increase physical activity."
Olivier said a Mattapan student she knows who won a free annual Bluebike pass in a raffle earlier this year was excited that she would finally have a way to use it. And a thoughtfully planned station at the Mattapan Library will encourage more kids to ride bikes, she reasoned.
But, the question remains: where will they ride them?
"There aren't many places where residents can feel safe when they're biking. Really the only place is the Neponset Trail," she said, noting that the bike paths there don't offer easy access to jobs and commercial areas in the heart of the city.
In terms of affordability, Bluebikes offer an option cheaper than most other forms of public transit. A single Bluebike trip costs $2.50, and riders can also purchase a $99 annual membership or a $20 monthly pass. Reduced prices are also available to EBT cardholders and those who qualify through income eligibility, at $50 for an annual pass and $5 for a monthly pass.
Formerly known as Hubway, Boston's bike share system has undergone a period of transformation and growth since being rebranded as Bluebikes this March as part of a new partnership between the city and Blue Cross Blue Shield. Improvements made to the bikes include a new seat that fits all adults, an innovative "infinity shifter," and more durable tires with yearlong traction.
The current expansion phase of the Bluebikes system projects to have more than 300 stations and 3,000 bikes across Boston and the surrounding municipalities of Brookline, Cambridge, and Somerville by 2019.