By Reporter Staff
March 1, 2018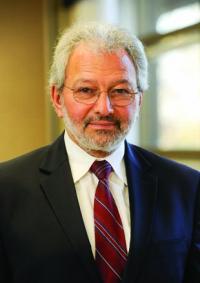 Leonid Dabuzhsky, MD will join Carney Hospital's emerging Center for Orthopedics & Joint Replacement, the Dorchester Avenue hospital announced this week. His addition will give Carney's patients exclusive access to OMNIBotics, an advanced robotic-assisted treatment option for total knee replacement.
"I am thrilled to have Dr. Dabuzhsky join us here at Carney" said Walter Ramos, Carney's president. "To have a physician of such quality as a part of our team cements Carney's orthopedics program as one of the best in the region. Our patients have access to top orthopedic surgeons, conveniently located right in their community."
The OMNIBotics procedure utilizes advanced software and instrumentation to tailor each procedure to the patient's unique anatomy in order to optimize implant fit and alignment. The surgeon maintains control and decision-making regarding the total knee replacement while providing a customized, patient-specific surgery. Carney Hospital is alone in the region to offer the OMNIBotics robotic-assisted total knee replacement procedure to its patients.
"I was drawn to Carney Hospital because of their patient-first approach with everything they do," said Dr. Dabuzhsky, who received his medical degree from Russian State Medical University and has been in practice for more than 30 years. "From the moment they step onto campus, the team here is committed to ensuring that not only does every patient receive high-quality care, but that that care is delivered with compassion and respect. I could not be more proud than to align myself with Carney Hospital in their mission to serve the community."