By Ryan Daly, Special to the Reporter
February 1, 2018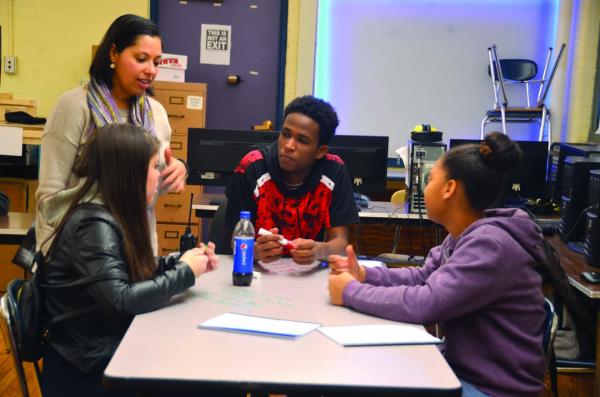 The Boston International Newcomers Academy in Dorchester (BINcA) hosted more than 50 workshops for the second iteration of Diversity and Democracy Day on Jan. 20. The school-wide experience sought to educate students on government functions, civic engagement, and democratic participation.
In lieu of regularly scheduled classes, students heard from local businesses, colleges, and organizations—such as the Edward M. Kennedy Institute for the United States Senate, Boston University Law School, and Upstander Project—as well as government offices—such as the Mayor's Office for Immigrant Enhancement—on subjects ranging from the allocation of the City of Boston's budget to The Twilight Zone. A majority of the teachers at BINcA also ran workshops.
"With two great years in a row, Diversity and Democracy Day has now become a tradition," said Kristin Russo, 39, a 12th grade English teacher at BINcA. She led a workshop titled "Humans of BINcA" this year, where students were taught basic photography skills and asked to prepare pictures akin to those seen in "Humans of New York," a photoblog capturing portraits of people on the streets of New York City.
The final product of the workshop will be a collection of the photos and captions hung on a bulletin board near the school's entrance—a candid broadcast of the eclectic student body for anyone who enters to see, Russo said.
Russo also mentioned that each student took something different away from the day—some saw the pragmatism of learning how to contact a public administrator, while others the beauty of learning to write in a foreign language.
This variation in programming formulates unique, singular experiences meant to unify the students in the recognition of each others' difference, said Toni Jackson, 49, the Coordinator of Extended Learning Time and Strategic Partnerships, and organizer behind both Diversity and Democracy Days.
"Our students are coming from so many different backgrounds, and places, and levels that it's hard sometimes to create a common context," she said. "The Diversity and Democracy Day asks teachers, as well as visitors: What do we have in common? What can you find similar in our difference, during one day, during a couple hours?"
The day also serves as an opportunity to present a common idea on government for students of various ethnicities, native languages, and educational levels from strong leaders and teachers within the Boston area. Having these "basic building blocks" taught by both teachers and individuals outside of the school "bolsters" the students, Jackson notes.
The first Diversity and Democracy Day was held on Inauguration Day last year, during which President Donald Trump was sworn into office. After the results of the presidential election were announced in November 2016, BINcA teachers quickly began collaborating on solutions to mitigate the student's anxieties surrounding the transition of power. Without wanting to steep to fear mongering, or deliver anything too preachy, Jackson said, but instead facilitate conversations around government through a myriad of mediums, the Diversity and Democracy Day format was spawned.
James Hobin, a resident of Savin Hill and an art teacher at BINcA, held several painting workshops for the development of a multi-paneled Statue of Liberty mural this year similar to last year's "From Her Beacon," which is still exhibiting at the Edward M. Kennedy Institute for the United States Senate. Along with the power Hobin sees in the image of the Statue of Liberty, the entire day holds great meaning for him.
"It shows them that we care, you know?" he said. "That we're looking to empower people. To empower people through these workshops, to join the discourse, to state their case. And to help those who can fight to start fighting for those who cannot."