By Madeleine D'Angelo, Reporter Correspondent
November 15, 2018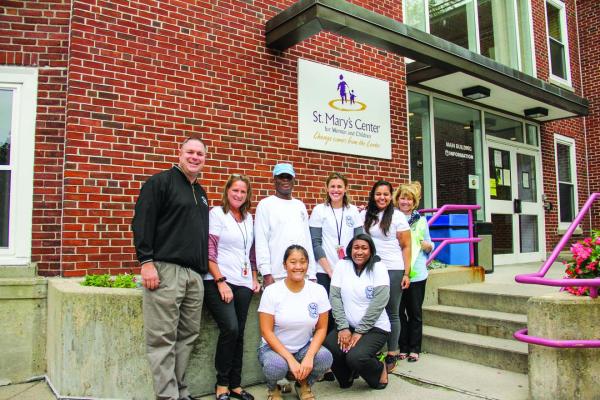 Dorchester IUPAT DC 35 Painter's Union has worked to refurbish St. Mary's Center for Women and Children, adding a fresh appearance to the Jones Hill facility.
IUPAT DC 35 is a local chapter of the International Union of Painters and Allied Trades that has over 600 members living in Boston. In addition to protecting the best wages and interests of its members, District 35 frequently participates in charitable projects that foster community.
IUPAT DC 35 began its involvement with St. Mary's over four years ago, seeking to support an organization that provides valuable resources to women and children living in Dorchester who have experienced extreme poverty and homelessness. When St. Mary's was in need of spiffing up to meet the city's inspection standards, members of IUPAT DC 35 who were between jobs would come in and work for a small fraction of their usual pay in order to repaint everything from bedrooms to stairwells.
The relationship became an annual effort, and this year, 20 of IUPAT DC 35's members volunteered in the refurbishment project. Chris Brennan, a Boston native and business representative for IUPAT DC 35, underscored IUPAT DC 35's desire to support Dorchester by donating both time and talent to St. Mary's.
"It's just about trying to give back to those who are in need," said Brennan. "We're from the community, we're part of the community, a lot of us are affected certainly by the things that these young men and women, these young boys and girls, are affected by — addiction being probably the main one. It's good to give back." 
Kathleen Santora, the financial secretary for Dorchester's Local 939, has also participated in the volunteer work in, explaining the unique experience she had with the work as a woman.
"Particularly in a situation like St. Mary's, they can't always have a lot of men go over there and help because of some of the situations that the women have been through," Santora said.
"The kids get really excited about seeing a woman doing this kind of work," underscoring the joy that she gets from exemplifying a career path often overlooked for women. For Santora, being able to give back in that way matters.
"When an opportunity comes up to help somebody else that maybe is a little bit let fortunate, could use a helping hand, I feel honored to be part of that," Santora said. "St. Mary's offers a tremendous service to the community, helping people that are struggling. Everybody deserves a helping hand and a second chance, so anything that I can do to support just makes me feel that I'm giving back and sharing what I have."