By Colin A. Young, STATE HOUSE NEWS SERVICE
February 21, 2018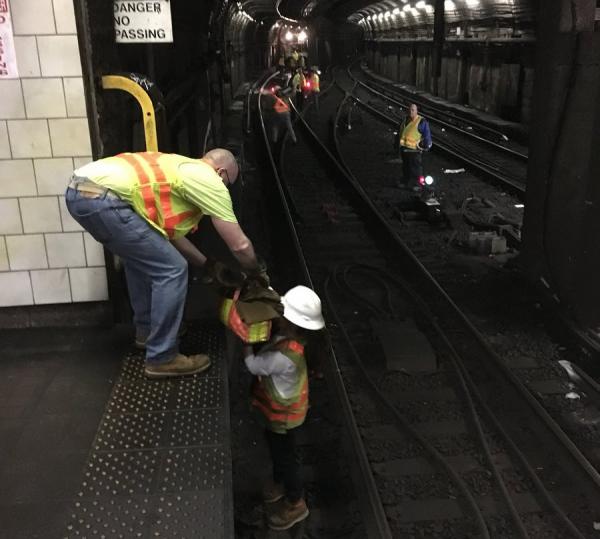 A portion of the Red Line will remain shut down and passengers will be bused between the Broadway and JFK/UMass stations until the MBTA is able to discern what caused a train to derail and damage a section of the third rail Wednesday morning. The T said Wednesday afternoon that Red Line commuters should consider alternative ways to get home Wednesday.
The Middleborough/Lakeville, Kingston/Plymouth, and Greenbush commuter rail trains will make added stops at the JFK/UMass, Quincy Center, and Braintree stations to accommodate MBTA Red Line passengers, the T said. Keolis, the commuter rail contractor, said Charlie Cards or any valid MBTA fare media will be accepted Wednesday on board all commuter rail trains at South Station, JFK/UMass, Quincy Center and Braintree.
Red Line service has been halted or under severe delay since the last car of a six-car train derailed at about 9:20 a.m. Wednesday as a Red Line train approached Andrew Station, the T said. The car "re-railed itself as it entered Andrew Station before stopping," the T said, and the conductor "reported an indication of a motor failure in the last car."
On social media Wednesday, Red Line passengers described a smoky scene at Andrew Station and said at least one of the car's windows shattered during the incident. The T said an initial assessment showed that about 300 feet of third rail -- the electrified rail that helps power the Red Line -- was damaged as a result of the derailment Wednesday.
"While we realize this is a significant inconvenience to our customers, the Red Line will remain closed between Broadway and JFK until it is safe to resume service," T General Manager Luis Ramírez said in a statement. "Until then, our team continues to assess the damage, and make necessary repairs, while working to identify the root cause."