By George K. Regan Jr., Special to the Reporter
February 8, 2018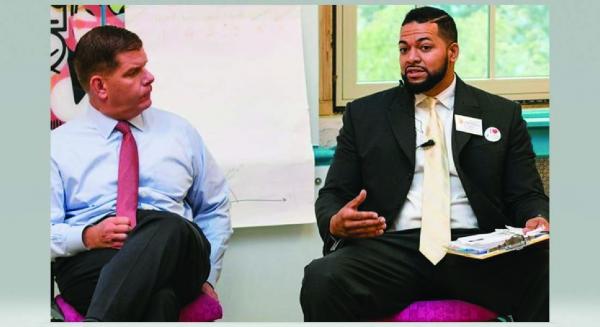 As a former NFL defensive lineman, Sean Guthrie spent years menacing offensive linemen and many of the best quarterbacks in the league. On game day, he was always up for the challenge – one he considered the biggest of his life. But after a professional career with the New York Giants, Indianapolis Colts, and Washington Redskins that was cut short by injuries, the 6-4, 269-pound athlete realized that his most important challenge lay ahead.
A former captain at Boston College, Guthrie, returned to the city focused on a new mission – to create positive change for young people through education. Similar to the flow of his athletic career, Guthrie had to work his way up the roster, first as a math teacher in the Boston public schools, and now as head of the Young Achievers Science and Math Pilot School in Mattapan, where he took over from principal Virginia Chalmers, who retired after 20 years in 2016.
I had the pleasure of meeting Guthrie when I visited Young Achievers as part of Principal Partners, a program that brings Boston's business leaders into the local schools. Supported by Bank of America, Principal Partners has brought more than 600 leaders into Boston classrooms for the past 15 years. I had the opportunity to witness Sean's work first-hand as a guest principal for a day.
As might be expected, Guthrie's leadership style was molded from his years at BC and in the pros, where he worked for two polar opposites in coaching philosophies: the military-tough Tom Coughlin and the soft-spoken Tony Dungy. "They had very different styles, but they were the same in the fact that they cared about the players," Guthrie said. When asked which coach's style he emulates as principal, he said he leans more towards Dungy, but admitted with a smile, "Sometimes I put on my Coughlin hat when I have to. Sometimes enough is enough."
Guthrie also tries to bring lessons from Michael Strahan, the Giants player who acted as Guthrie's mentor when he started out in the NFL. "He never felt there was a hierarchy in how people should be treated; no matter who you were, you were given respect, and not everyone was like that," he said. "It's the same way here; students, teachers, custodians, coaches, they are all the same."
One of Guthrie's first changes as the new principal was to stress to his students the idea of "social justice through academic excellence," something he feels is the key to success for those not born into affluence.
"These kids are disenfranchised, and we tell it to them straight—there are barriers of race, barriers of finances. These obstacles exist, but they can be overcome through academic excellence," he said. "We let them know that people will look at you a certain way, but if you articulate yourself, express yourself in a way they don't expect, you can overcome. We let them know that there is a better way to move forward, a more positive way."
There are other ways Young Achievers tries to give its students a head start in life. While most schools in Boston are done for the day by 2 p.m.,
Young Achievers goes until after 4, adding an extra 300 hours of instruction a year. The school emphasizes lessons and training that will seamlessly transfer into a career. For instance, sixth graders are taught computer science. In the seventh grade, kids learn how to create apps. The following year, they are instructed in 3D modeling.
The school emphasizes outdoor, hands-on experience and learning, and each year sends more than a dozen eighth-graders to the Costa Rican rain forest in a privately funded trip to learn about the wildlife. Young Achievers is also the only BPS institution to have a chess club. At Guthrie's prompting, the club now participates in statewide competitions, with surprising results.
As is the case at every school, there are challenges. While the staff's mission is to provide an education on the level of the best public school in the state, they have a library that needs updating, and they wish they had better technology to prepare their students for their futures.
To supplement the school's budget, Young Achievers is holding a fundraising gala on March 18. Speaking at the event will be John Urschel, another NFL player who found fulfillment in the academic world. He famously retired after a few years with the Baltimore Ravens to pursue a doctorate at MIT.
What I saw at Young Achievers was very inspiring – a school poised to tackle and overcome poverty and condition its students for success.
George K. Regan Jr. is president and chairman of Regan Communications Group.