By Yukun Zhang, Reporter Correspondent
December 20, 2018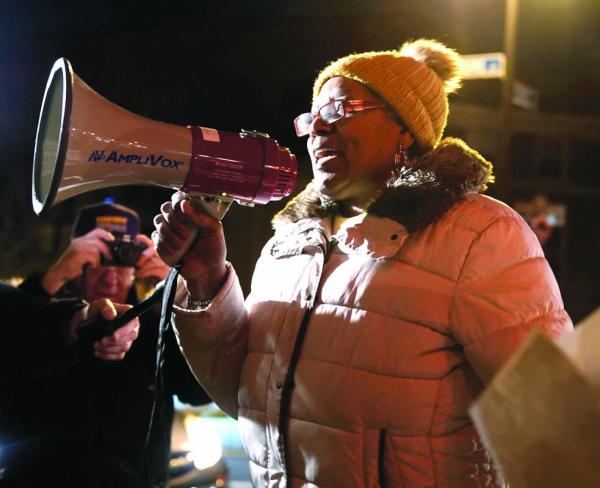 Rosa Poincy, a tenant living in the Baker Chocolate Factory Apartments, received a letter on the day before Thanksgiving last year informing her that her Section 8 rent subsidy would be terminated less than a month later, on Dec. 18. "I see the letter and I'm thinking: 'I haven't done anything,'" Poincy, a 60-year-old resident living on her Social Security Disability Insurance, said in an interview.
Six months later, in June, she was notified that her lease would run out on Nov. 30 and not be renewed, said Helen Matthews, the communications manager for City Life/Vida Urbana, a community organization who is helping Poincy dispute the decision.
According to Poincy, seven people in Baker Chocolate Factory apartments, all on Section 8, got the same letter from the lawyers of the managing company, Chartwell Holding LLC. She said her letter noted that she could stay if she paid the market rent, which is between $2,500 and $3,000 per month.
"It's all about the dollar bill," she said, tearing up as she spoke. "I've never been evicted in all my life. This is new to me and it's scary. My kids are grown and I'm alone, and I feel like I shouldn't have to go." Unwilling to move out from her home of four and a half years, she is fighting to stay, she said, with City Life/Urban Urbana helping her legally.
On Nov. 30, the organization set up a vigil outside the building at 1220 Adams St. in Lower Mills to protest the termination of Poincy's lease. About 100 people showed up and chanted "Whose city? Our city!" and "We are Rosa, the mighty, mighty Rosa."
"There's no way that they are going to force me out. I'm going nowhere," Poincy said to those gathered at the vigil. "I paid my rents on time. My neighbors love me — I know they do — and I love them, too." Her friends, family, and representatives of City Life/Vida Urbana and Dorchester Not for Sale spoke, too. And City Life/Vida Urbana made signs that read "Stop Corporate Greed."
"We want to make the case that Chartwell, who is the landlord here, owns some 6,000 units up and down the East Coast. Here's this really wealthy company that is evicting Rosa — no fault, but because they want even more profits. We are going to stand here and stop that," said Steve Meacham, organizing coordinator of City Life/Vida Urbana.
He said that Poincy's apartment is an income-restricted unit, which has a rent capped at an affordable price, but Chartwell Holding LLC claims the rent restrictions are expiring.
Gabrielle Rene of City Life/Vida Urbana, said displacement is happening all over Boston and she has seen mostly people of color fighting in courts to stay in their homes. "I'm fighting with [Poincy] and I'm fighting with everybody who wants to stay in their homes, because when you come home and not know whether you'll stay or go, it's like hell on earth…Boston is for everybody, not for some," Rene said.
Poincy said she had contacted Metro Housing Boston, the provider of her voucher assistance, but the program representative told her to look at the apartment list, and the building's owner, Baker Chocolate Factory, refused to help her. The management of Baker Chocolate Factory Apartments declined to comment for this story.
Since receiving the letter, Poincy said, she has been upset and going regularly to her doctor for treatment of high blood pressure. As the vigil ended on the night of Nov. 30, the date she was told would be the last day of her lease, Poincy said she was going back to her apartment to decorate her home for Christmas with her two granddaughters.
"The vigil made a big statement to neighbors and Boston residents citywide," Matthews said. "After the vigil, the petition to support Ms. Rosa in keeping her home has topped 1,200 signatures."
This week, Meacham said that Poincy remains in her Lower Mills apartment as the advocacy group continues a "fruitful discussion" with the building's management. Other tenants who are in a similiarly facing no-fault evictions have been showing up in increasing numbers to City Life/Vida Urbana's weekly clinics in Jamaica Plain and East Boston, Meacham said.
For more information on City Life/Vida Urbana's services, see clvu.org. A version of this story was first published by the BU News Service.