By Daniel Sheehan, Reporter Staff
May 30, 2018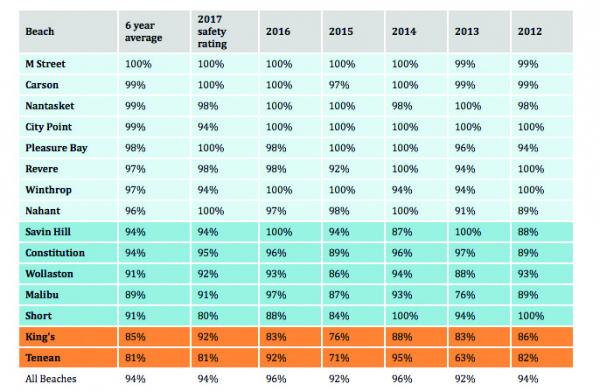 The environmental advocacy organization Save the Harbor/Save the Bay released their annual analysis of water quality this week along with a report analyzing data collected from Metropolitan Area public beaches in 2017. The results revealed the total 2017 Beach Safety Rating to be 94 percent, a figure down 2 percent from last year but in line with the report's six-year average.
Dorchester's beaches were found to be equal to or below this overall average in water quality, which was assessed through a method that samples and tests for bacteria at spots from each beach. Savin Hill Beach matched the average mark at 94 percent, while Malibu Beach received a slightly lower grade at 91 percent.
Neponset's Tenean Beach scored the region's lowest grade at 81 percent safety quality. Past reports have noted that Tenean is challenged by run-off from local parks where dog feces has been a noted contaminant.
All Dorchester beaches saw relative drops in water quality compared to 2016 levels, a trend the report suggested could be explained by lower rainfall totals for that year, which usually mean less contamination via runoff.
The report's executive summary noted that accuracy of water quality assessments are often subject to variables such as rainfall totals and the timing of sampling procedures, adding that, "Changes in the intensity and frequency of summer storms may well explain the variations we saw on some of our beaches in 2017, which is why we urge the public to use the multi-year averages we have provided in comparing relative water quality among beaches."
Find data and learn more about the methodology on which the report card is based at savetheharbor.org/beachesreportcard.