By Reporter Staff
May 17, 2018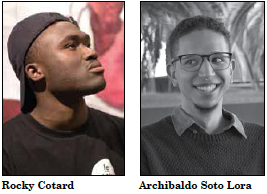 Rocky Cotard of Mattapan and Archibaldo Soto Lora of Dorchester will be among the first graduates from Lesley University's Urban Scholars Initiative on May 19. Launched in 2013, the transitional scholarship program provides deserving students with an education along with financial, academic and social support.
Lesley identifies students through partnerships with 16 community-based organizations in the Boston area. Once students arrive on campus, they receive significant support from Urban Scholars staff, university faculty, as well as peer mentors, who help them with everything from filling out financial aid forms to learning to represent and express themselves in a largely-white academic environment.
"Graduating from college is a huge accomplishment, and I think to have it be associated with a program that is about fostering community makes it all the more so. I come from a community that USI did not allow me to forget because that allowed for that community to come along with me," said Cotard, a first-generation college graduate majoring in illustration major and minoring in fine arts.
Urban Scholars Initiative director Maritsa Barros called the first class of 17 students who enrolled in 2014 "trailblazers," who helped to define and refine the new program. They've also been change agents and leaders on campus.
"They challenged Lesley to look in the mirror and work towards creating a more inclusive campus," says Barros.
During their four years, the students took on numerous leadership roles on campus, in the community and abroad, becoming community volunteers, a class president, a Harvard Ed Portal intern, the organizer of a march for racial justice, an intern for Sen. Elizabeth Warren and more.
Says Barros, "They are extroverts, introverts, activists, natural-born leaders, artists, educators, innovators, dreamers and life-long learners."