By Kevin Monahan, Special to the Reporter
July 24, 2019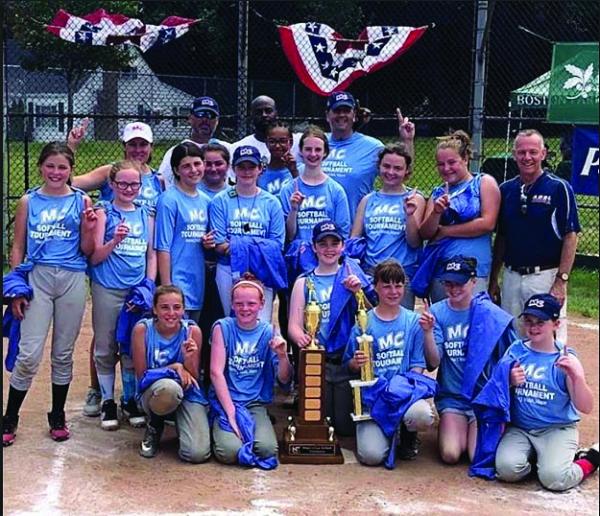 Our ADSL softball team put on an exhibition at last weekend's Mayors U12 Softball tournament, going undefeated on the way to ADSL's first Mayor's Cup citywide championship.
The hard work of coaches Noreen Kelley, Matt Kelley, Jason Willett, Kevin George, and Byron Scott was evident as the team played its best ball of the year. Their bats were hotter than the oppressive record temperatures registered throughout the tournament.
In the first round, ADSL breezed by a young Blue Jays team. Coaches showed good sportsmanship by putting the subs in early as the outcome seemed inevitable. Rookie players got to show off their skills as the senior players cheered them on. 
Rylie Flynn showed off her pitching skills and will join Addison Willett as our U12 pitching stars for next year. Outfielders Katie Kelly, Lila Curley, Kelley McKenna, and Rory Shields were rarely tested, but showed impressive quality of play with speed and backup when needed. Niamh Tobin and Isabelle McQuaid shared the heavy lifting of catching in the oppressive heat.  
In the semi-finals, ADSL faced off against a strong Parkway team from West Roxbury. The first half of the game was dominated by both pitchers. Then ADSL batters adjusted in the second half of the game as they put together several strings of solid hits and forced Parkway's starting pitcher out of the game in the fifth inning. ADSL's Christina George pitched an impressive complete game and limited a strong Parkway lineup to only two runs. ADSL defense helped with solid play all game in an impressive 9-2 win.
In the finals, ADSL met up with a powerhouse Charlestown team whose pitcher had limited opponents to a single run in three games. The Dot pack had not seen pitching of this caliber to date. ADSL countered with Monica Kelley, who was unflappable and responded by stunning the Townies with a complete game shutout. After two innings, it looked like another pitcher-dominated game.   
A pair of walks earned by patient at bats opened things up in the third inning.  Rory Shields put some wear on the pitcher with a two-strike walk after fouling off several third-strike pitches. Maddie Murphy took full advantage and followed up by drilling a solid line-drive triple deep into left, opening up a 2-0 lead. 
The fourth inning totally turned the tide. Christina George, Monica Kelly, Kiera Flynn, and Ananda Scott joined the "hit squad" by pounding out more solid extra base hits to up the lead to 5-0 and knock out the starting pitcher.
ADSL's defense was flawless: zero errors. Kiera Flynn felt abandoned at the hot corner due to an iron-clad infield. Monica Kelley and Emmie Finnegan completed numerous 1-3 combinations. The rare sighting of a Townie base runner was further stymied by solid 6-4 combination putouts by Maddie Murphy and Ananda Scott. Catcher Audrey Kelley was untested and was limited to returning pitchers back to her sister Monica. 
The game ender was appropriate for the "Apollo 11" anniversary as Monica Kelly lofted a "moon shot" home run that kicked in the 10-run slaughter rule as ADSL rolled to a 11 -0 victory.
When you see these young ladies in the neighborhood, please congratulate them for their impressive athletic performance and, more importantly, their sportsmanship. They deserve a big thank you for representing Dorchester so well.
Kevin P. Monahan is the commissioner of ADSL Girls Softball.