By Daniel Sheehan, Reporter Staff
May 9, 2019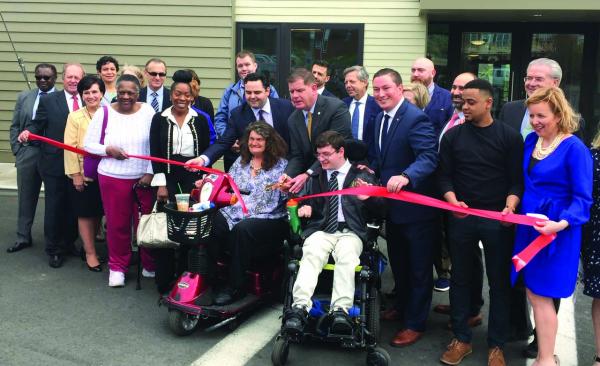 Mayor Martin Walsh, state Rep. Dan Cullinane, and state Sen. Nick Collins were on hand Tuesday morning adjacent to The Boston Home to celebrate the opening of Harmon Apartments, an $18.7 million development that will provide 36 fully accessible mixed-income units to residents with disabilities.
And for Janice Kennedy, a self-proclaimed "Dot Rat" who grew up on East Street and later lived on Neponset Avenue, the moment represented a homecoming. "I lived in Dorchester for 43 years," she said, and after spending some time at the Pine Street Inn in the South End, she was happy to be back in her home neighborhood.
"I love it. I've already run into so many people I know," she said. "One of my old friends still works at the laundromat right down there, on Dot Ave."
Kennedy lives in one of the new apartments, all of which are ADA compliant and feature automatic door openers and a wireless, smart-lighting control system, which means that residents can navigate their way around their apartment and through the building with the touch of a handheld remote.
The apartments will also offer on-site wellness, fitness, and social programs, including a multiple sclerosis support group that will meet regularly in the building's community room. Half of the building's residents suffer from either MS or ALS.
The development takes its name from Cordelia Harmon, who co-founded The Boston Home in 1881 to serve people with chronic illnesses and disabilities. Former Boston Home president and CEO Marva Serotkin explained that the opening of the apartments represents a full-circle connection to the work of their namesake.
"She went out to visit people where they lived in the community and what she saw was deplorable in terms of the housing. So she advocated for civic leaders at the time to do something better."
Before cutting the official ribbon, the mayor told the media that the occasion mirrored ongoing efforts to make City Hall and City Hall Plaza accessible for all. "Twelve percent of residents in Boston have a disability and so it's our duty to make sure accessibility is a priority," he said.
For her part, Janice Kennedy says she's looking forward to watching the Dorchester Day Parade from her new digs. She can see the route from her apartment window, but when Dot Day rolls around?
"I'll be down there on the street," she said.