By Daniel Sheehan, Arts and Features Editor
August 15, 2019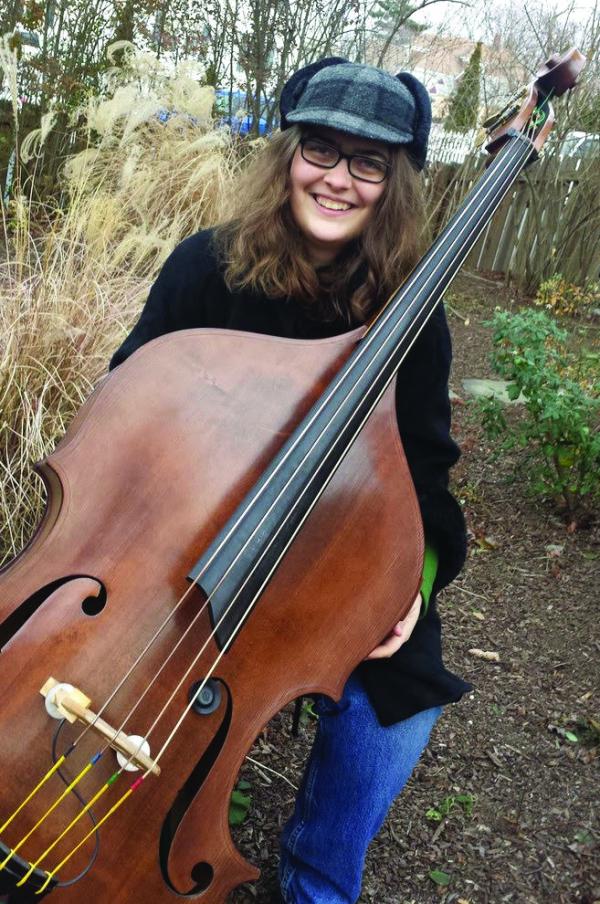 Hazel Royer of Ashmont was awarded a Presidential Scholarship to the Berklee College of Music at a ceremony last week. The 18-year-old, whose main instrument is the acoustic bass, told the Reporter that she is "honored" to be attending Berklee this fall on a full ride.
"It was really surprising," she said. "I was so excited because there were so many awesome people I knew that could have gotten it. I was really grateful."
Royer has played music "from a very young age," thanks in part to her father, a professional banjo player who taught her how to play mandolin, fiddle, and guitar before she discovered her love of the bass while attending Boston Latin Academy. 
Royer already knows her way around the Berklee campus because for the last four years she has taken classes at the college through Berklee City Music, a nonprofit organization that offers music education to kids from underserved communities at low or no cost.
"It was awesome." Royer said, "because I got to take classes at Berklee all year with professors from the school. I know a lot of the people who teach there through that program, and so I already sort of know how the classes work."
She said she hopes to double major in music performance and either composition or music education. After initially being tapped for a nonprofit-funded City Music scholarship in February, Royer learned that her application had been accepted for a Presidential Scholarship, an honor that includes free housing, a complimentary computer, and full tuition, all courtesy of Berklee.
Royer named early jazz, folk, and bluegrass as her favorite types of music to play. She regularly performs in a family band with her father, Eric, in bars and establishments in and around the Boston area, and in the past has played in the house band at The Burren Irish Pub and Restaurant in Somerville. She wrote and recorded her first full-length bluegrass album, "A Whole Year," in March of this year, playing bass and singing lead vocals.