By Reporter Staff
April 11, 2019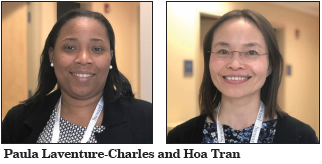 Carney Hospital welcomed two new nurse practitioners in the hospital's Primary Care office last week. Paula Laventure-Charles, NP and Hoa Tran, PHD, NP provide patients a convenient, close-to-home setting for their everyday health needs.
"We are pleased to welcome Mrs. Laventure-Charles and Ms. Tran," said Beth Sweeney, Practice Manager for the Carney Primary Care Office. "Both nurse practitioners provide quality, compassionate care that mirrors the type of care our patients are accustomed to receiving from our already esteemed staff of health care providers."
Laventure-Charles and Tran are accepting new patients in Carney Hospital's Primary Care Office located in the rear of 2100 Dorchester Ave.
Do you enjoy reading the Reporter?
Please consider supporting our local journalism by buying a subscription to the print edition ($30 for one year).