By Bill Forry, Editor
June 12, 2019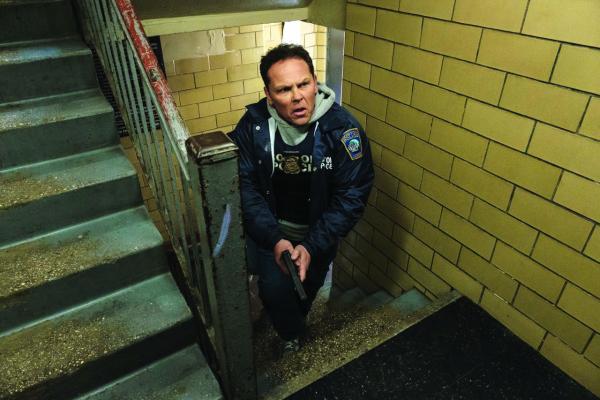 "City on a Hill" — a new Showtime series that premieres on Sunday— is set in a Boston that many of us who lived through it would prefer to forget. Homicides crested at 152 in 1990 and many of them stole the lives of people we knew— including teenagers from this neighborhood.
The era included the infamous case of Charles Stuart, the scheming husband-turned-murderer who shot his own wife to death in Mission Hill and told police a black guy did it. The ensuing "hunt" for a killer turned black Boston upside down and ended when the guilty party hurled himself off the Tobin Bridge.
The Showtime series is set against this backdrop of crack-fueled violence and racial tension. 
One of the men who portrays a key character in the series is Kevin Chapman, the 55-year-old Dorchester native who lived through the events and was, later, a participant in what was later framed as "the Boston Miracle." Chapman was a Neighborhood Services liaison for the late Mayor Tom Menino, who came into office in 1993, just as the tide of acute violence was receding a bit.
For a few years, Chapman was Menino's eyes and ears in Dot's District 3, which roughly parallels the Area C-11 police district. He worked closely with civic leaders and police, led by C-11's then-commander Capt. Robert Dunford— to coordinate what was then still an emerging "community policing" model.
"Back then, I was only involved as much as Bob Dunford would let me be involved," Chapman said with a laugh. "And he let me know early on that it was his district."
Chapman's character on the show is "J.R. Minogue," a Boston cop attached to the Drug Control Unit. "When you first meet him, you get the impression that he may be the most morally compromised individual," said Chapman. "But you realize he's a self-righteous blue-collar working cop. His approach to the work is not always within guidelines of administration, but he does what he thinks is right in the name of justice."
"Growing up in Dot, we knew cops like that. They weren't necessarily by-the-book individuals, but they were in effective in their own dysfunctional way. That's the way I approached J.R. He's not going to win awards for procedures and policies, but he gets it done."
Chapman's Minogue ends up being an "antagonist" for one of the two male leads, an FBI agent played by Kevin Bacon, whom Chapman has worked with on several films, including "Mystic River" and "The Departed." "We've maintained a friendship that's lasted about 15 years now," said Chapman. "He jokes that he's played a Boston cop more than me— and he has!"
.
Kevin Bacon and Kevin Chapman in a scene from "City on a Hill." Showtime photo
The show is getting a lot of early buzz, much of it due to the executive producers— Ben Affleck and Matt Damon. The network is pouring money and promotional heft into its launch.
"You have to be all-in on a project like this and the fact that the EPs are Affleck and Damon has a lot to do with it," says Chapman, "I've heard this being framed as like a prequel to "The Town." It has those elements of armored car heists in the show."
On its success, Chapman is enough of a veteran film and TV actor to know that you can't predict the outcome. He starred in another critically acclaimed Showtime vehicle— the Providence-set drama "The Brotherhood." The show won a Peabody Award for its excellent ensemble cast, but it never caught on with viewers and only survived for two seasons. His most well-known TV project— "Person of Interest" — ran for five seasons.
"You create these things and put them out in the universe and you see what happens, what people think, and hope it finds an audience," said Chapman.
"City on a Hill" premieres on Showtime this Sunday (June 16) at 9 p.m.