By Jack Goldman, Reporter Correspondent
November 27, 2019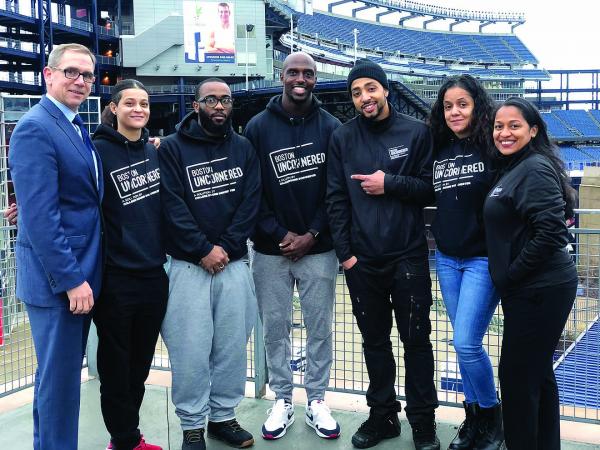 The New England Patriots and safety Devin McCourty have thrown their support behind College Bound Dorchester's "Boston Uncornered" project with a grant of $90,000 from the Patriots' Player Social Justice Fund, which contains player donations that are matched by the Kraft family.
During the Dec. 8 game against the Kansas City Chiefs, McCourty will rock custom cleats in support of Boston Uncornered as part of the NFL's "My Cause, My Cleats" program. The cleats will be auctioned off after the game.
"There are many organizations that do amazing work in the area of social justice," McCourty said in a release. "As individuals, there is a lot we can do to assist. But, if there is anything football teaches us, it's that we can accomplish much more collectively as a team.
"The goal of the social justice fund is to work together as a team to help effect change in our community by providing support to these organizations. The more you learn about the work they are doing, the more you want to support their efforts."
Founded in 2016, Boston Uncornered is College Bound Dorchester's initiative to reduce generational urban poverty by giving former gang members—or just young people who've had experience with the criminal justice system—the opportunity to pursue college degrees. The goal is for participants to earn their degrees with the help of College Bound Dorchester-trained "College Readiness Advisors" who hail from the same neighborhoods as Boston Uncornered members.
So far, 91 percent of participants in the program have no new arrests. Program members also begin their second year of college at a rate 12 percentage points higher than the national average, and they remain engaged in the program at an 80 percent level.
Boston Uncornered costs about $30,000 per year, per participant, which is $70,000 less per year than the state of Massachusetts pays to house its prisoners, College Bound officials note.
"We are grateful and excited by the support of both our hometown heroes, the New England Patriots, and Devin McCourty, who is an inspiration on and off the field," said Mark Culliton, College Bound Dorchester's founder and CEO, who found out about the grant through a phone call from McCourty.
"The funds and cleats are a testament to the courage of Devin and the Patriots and their belief in the work we do," he said.
The Patriots' Social Justice fund has awarded $450,000 in grants to five charitable organizations this year. Other recipients include Boston Healthcare for the Homeless, Commonwealth Kitchen, Roca, and We Belong. The latter two are similar projects centered around keeping high-risk youths out of gang-related activity and steering them toward steady employment while training them in leadership skills.

Get the Dorchester Reporter— the paper of record for Boston's largest and most diverse neighborhood—delivered to your door for just $30 per year.
That's 52 weeks of the Dorchester Reporter delivered by USPS for just $30.
Support our brand of community journalism AND get the print edition delivered to your door each week— the best deal in town!
Click here to submit your order with PayPal:
Or call 617-436-1222.